The Natural Provider
Herbs and plants are readily available around us and have been used for many things. In the Middle Ages, people often grew herbs for their own use and to make medicines. In fact, the only medicines available were based on herbs or other natural remedies.
In the science of Ayurveda, it is stated that good health is the result of a natural balance and illness happens when that balance is disturbed. Herbs, diet and natural remedies are all used to restore balance.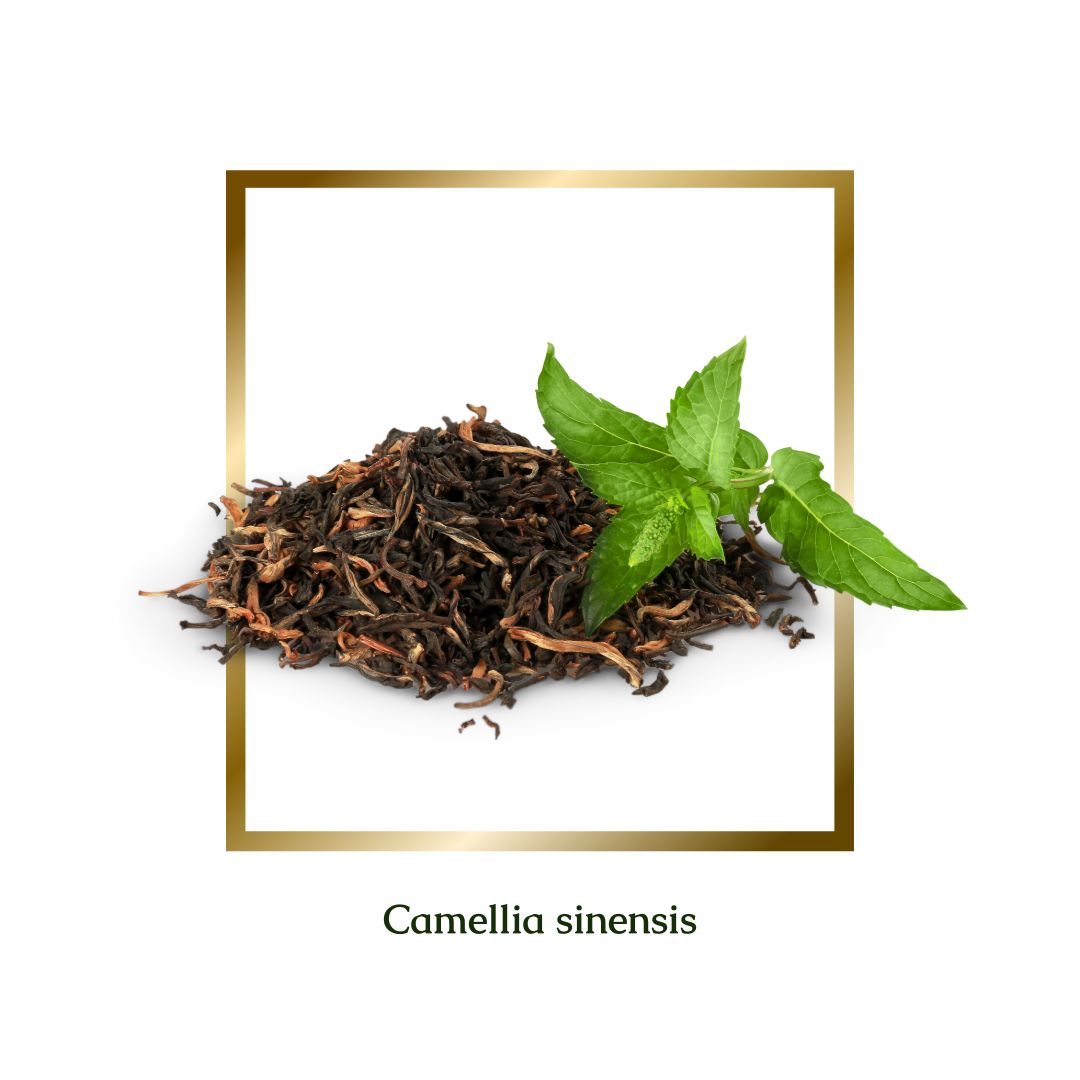 Tea Leaves (Camellia sinensis)
Both the polyphenolic components as well as caffeine have been implicated as the cancer-preventive substances.
Reference: Does tea prevent cancer? Evidence from laboratory and human intervention studies (The American Journal of Clinical Nutrition, Volume 98, Issue 6, December 2013, Pages 1667S–1675S)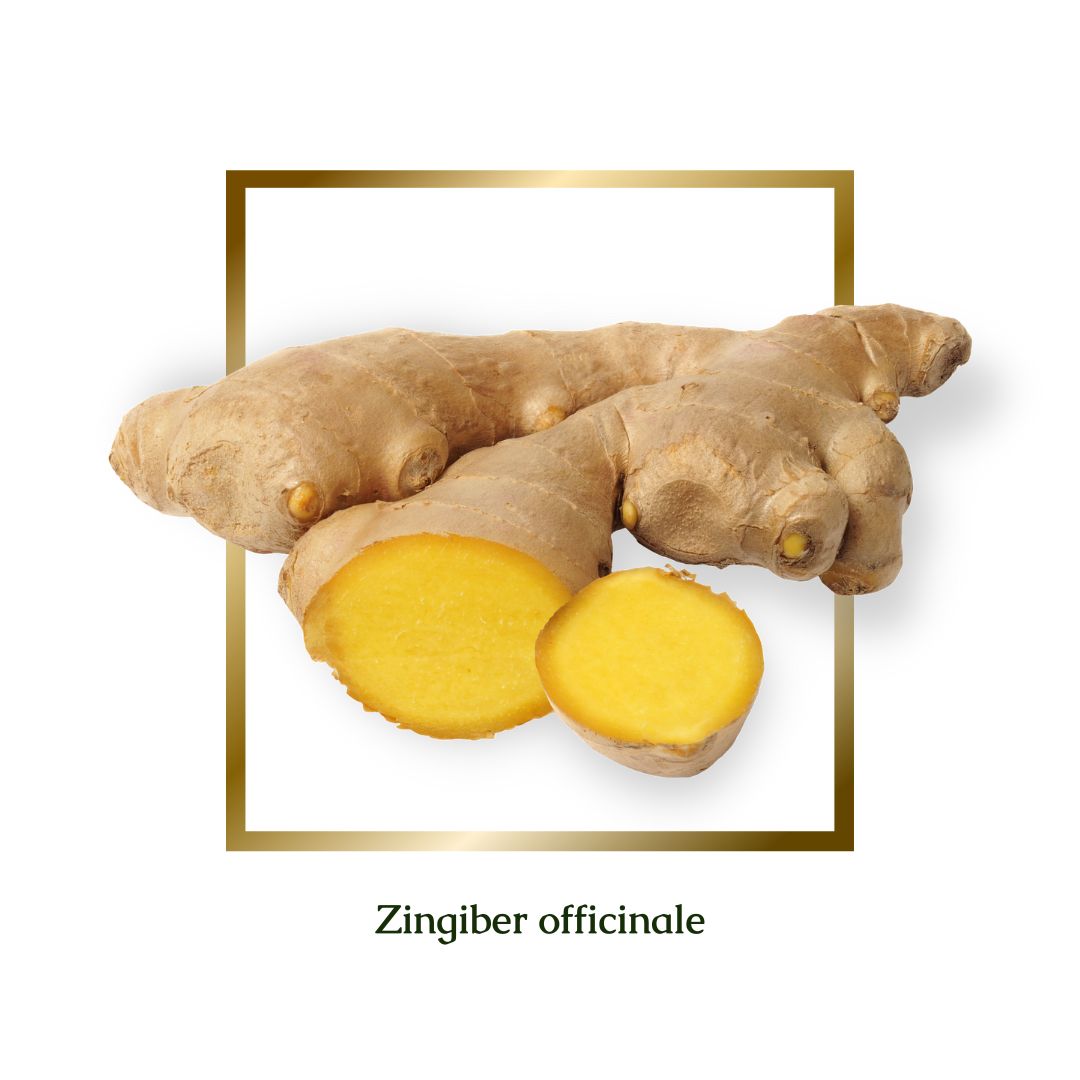 Ginger (Zingiber Officinale)
One of the many health claims attributed to ginger is its purported ability to decrease inflammation, swelling and pain. [6]-gingerol (Young et al. 2005).
Reference: The National Centre for Biotechnology information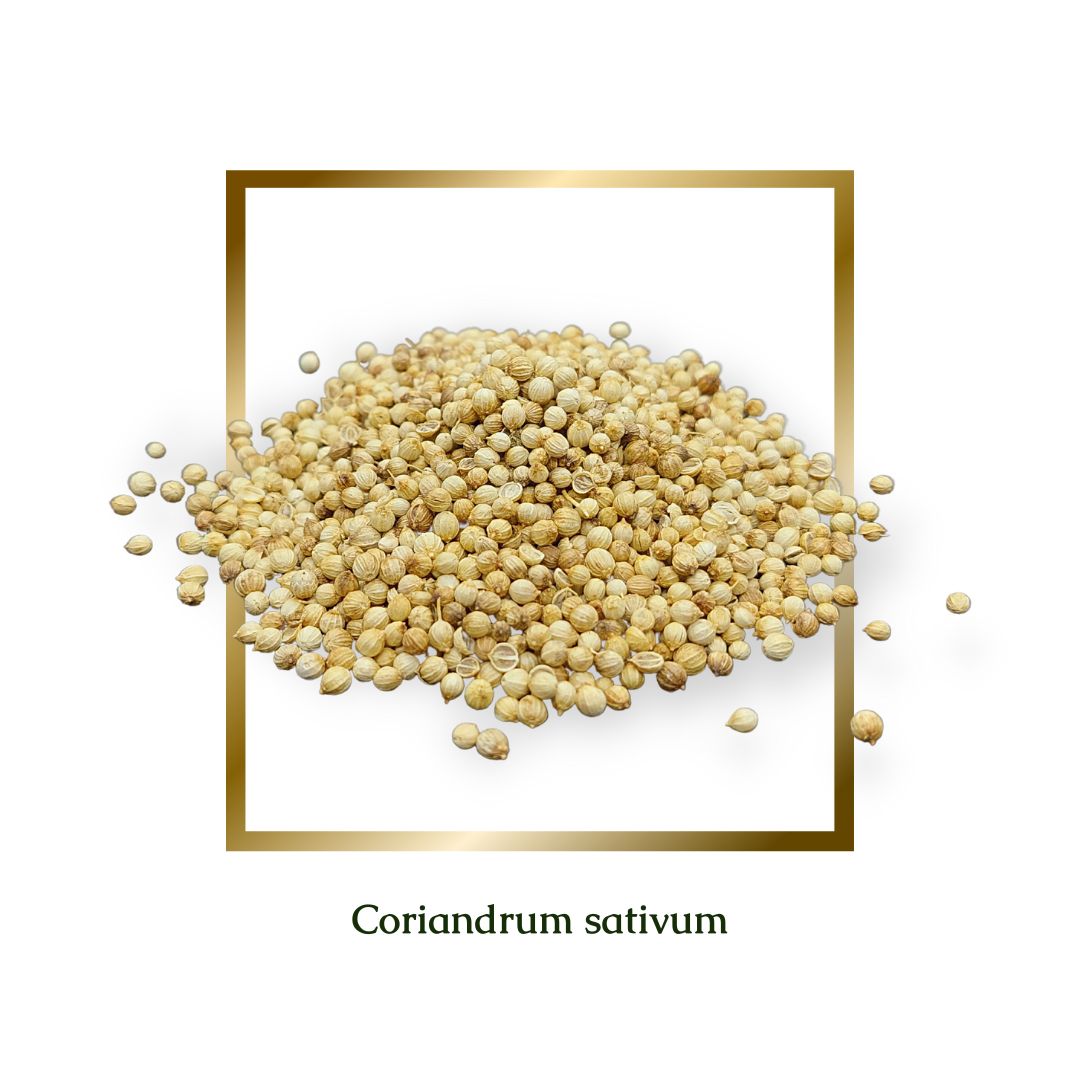 Coriander Seeds (Coriandrum Sativum)
Coriander has been used in medicines for thousands of years (Mathias, 1994). Various parts of this plant possess antioxidant activity, diuretic, anti-diabetic, sedative, anti-microbial activity, anti-convulsant activity, hypnotic activity and anthelmintic activity and anti-mutagenic (Pathak et al., 2011; Rajeshwari and Andallu, 2011).
Reference: ResearchGate: Nutritional and medicinal aspects of coriander (Coriandrum sativum).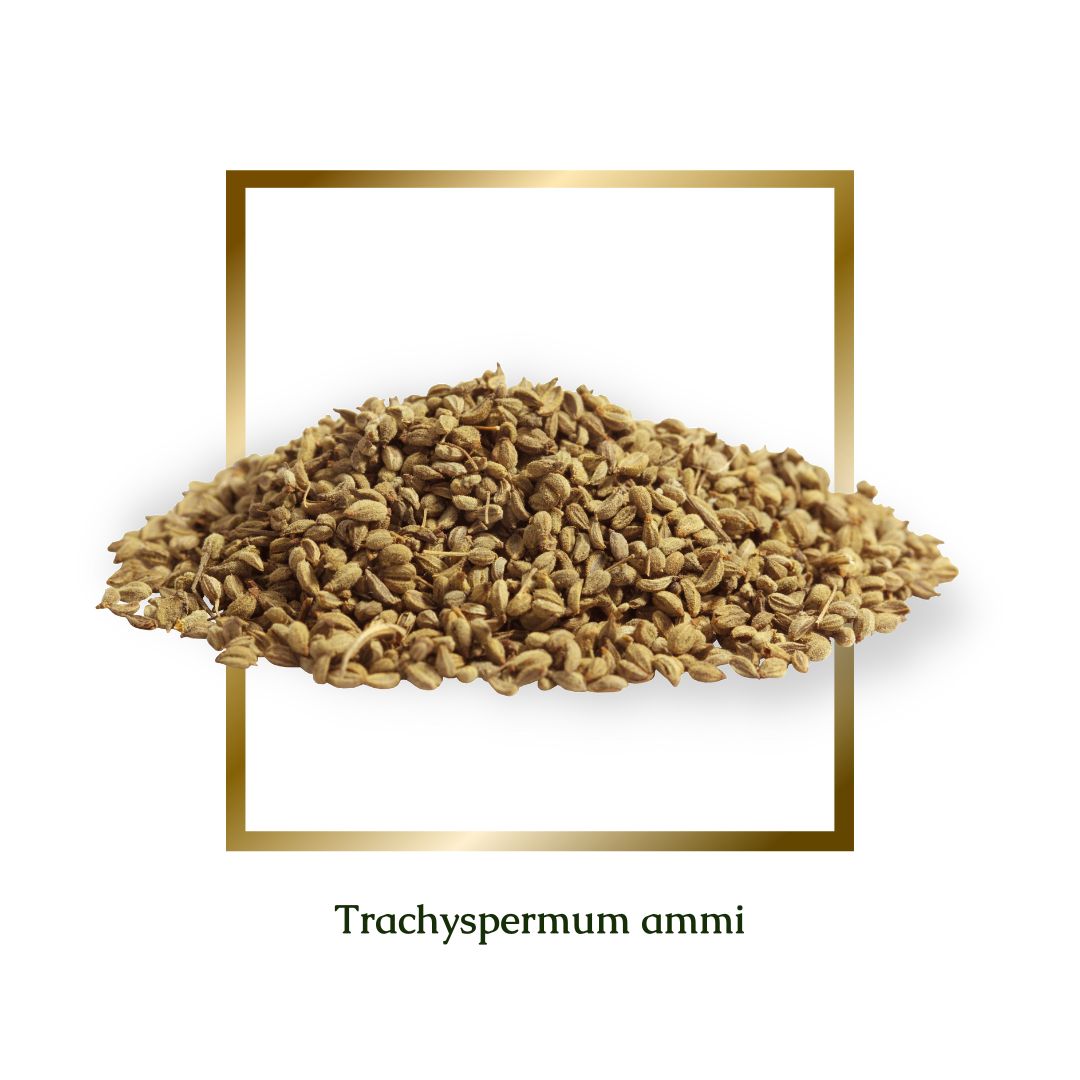 Carom Seeds (Trachycpermum Ammi)
It is found to be very useful in alleviating spasmodic pains of the stomach and intestines, in adults as well as children. It is helpful to stimulate the appetite and enhance digestion. It is also helpful for the functioning of the respiratory system and the kidneys.
Reference: ResearchGate: Health Benefits of Carom Seeds.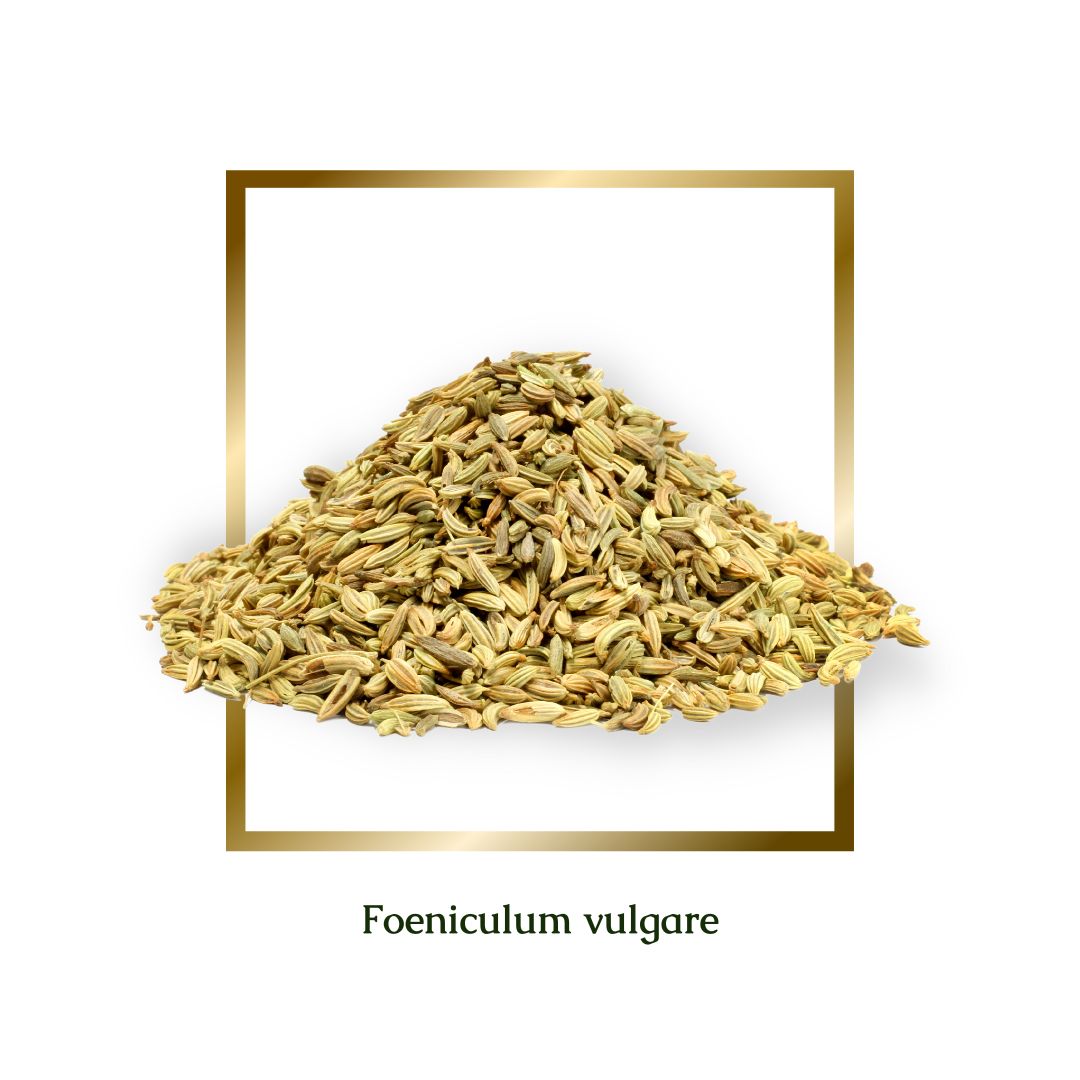 Fennel (Foeniculum Vulgare)
Study showed that this herb had several functions such as anti-stress proceeding, increase in memory and antioxidant effects, which may reduce stress and stress-related disorders. Singh et al., (2010), reported that the fennel has exhibited antifungal effect.
Reference: Global Journal of Pharmacy & Pharmaceutical Sciences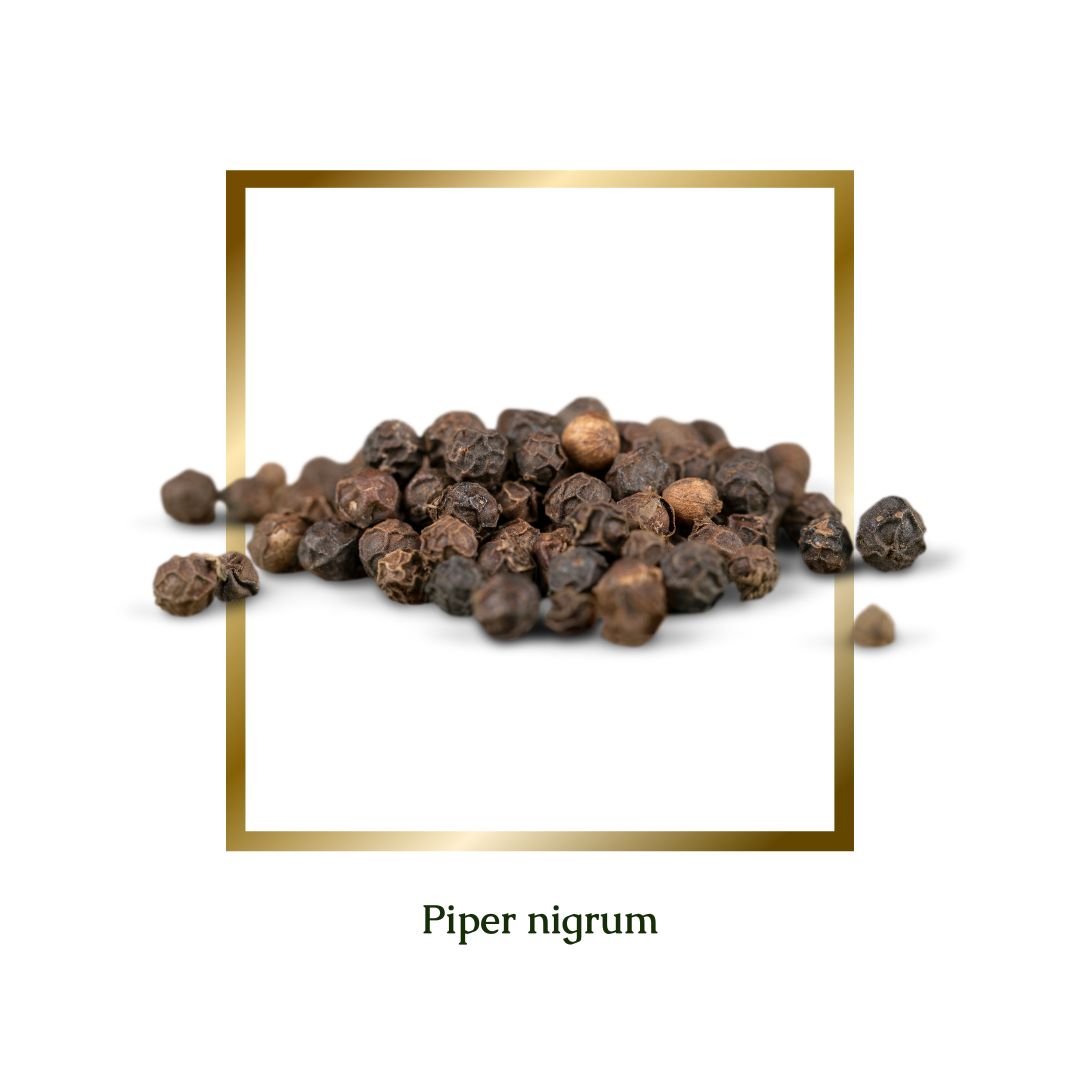 Black Pepper (Piper Nigrum)
The antioxidant potential of black pepper and its bioactive molecules is of considerable importance to improve brain function (Wattanathorn et al., 2008).
Reference: ResearchGate: Black Pepper and Health Claims: A Comprehensive Treatise.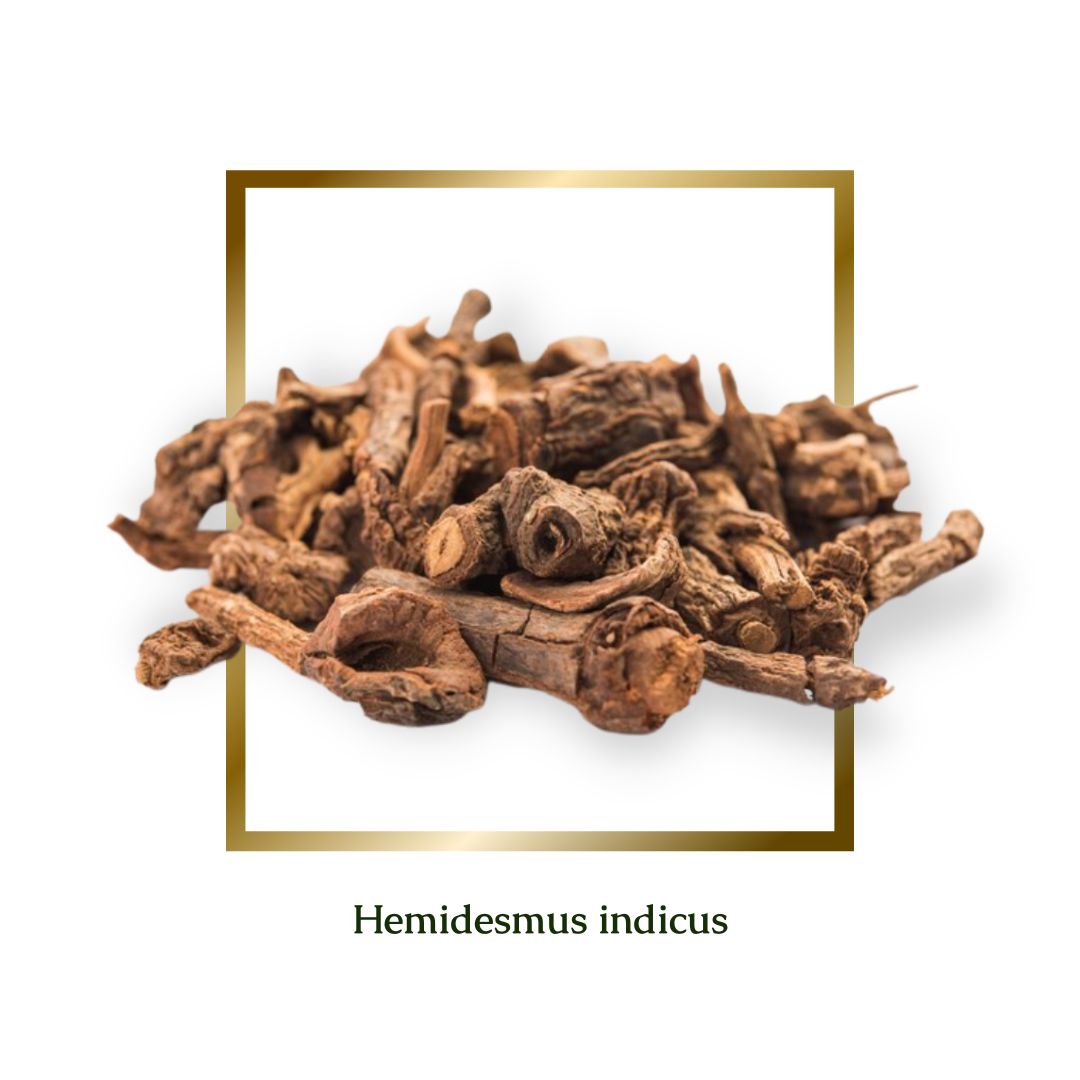 Indian Sarsaparilla (Hemidesmus Indicus)
In Ayurveda, the plant is used in the treatment of bone-loss, low body weight, fever, stress, topical wound and psoriasis. several studies suggest that sarsaparilla extract can slow the growth and migration of cancer cells and possibly even kill them (Very well Health).
Reference: ResearchGate: Recent progress in research on ethnobotany, phytochemistry and pharmacology.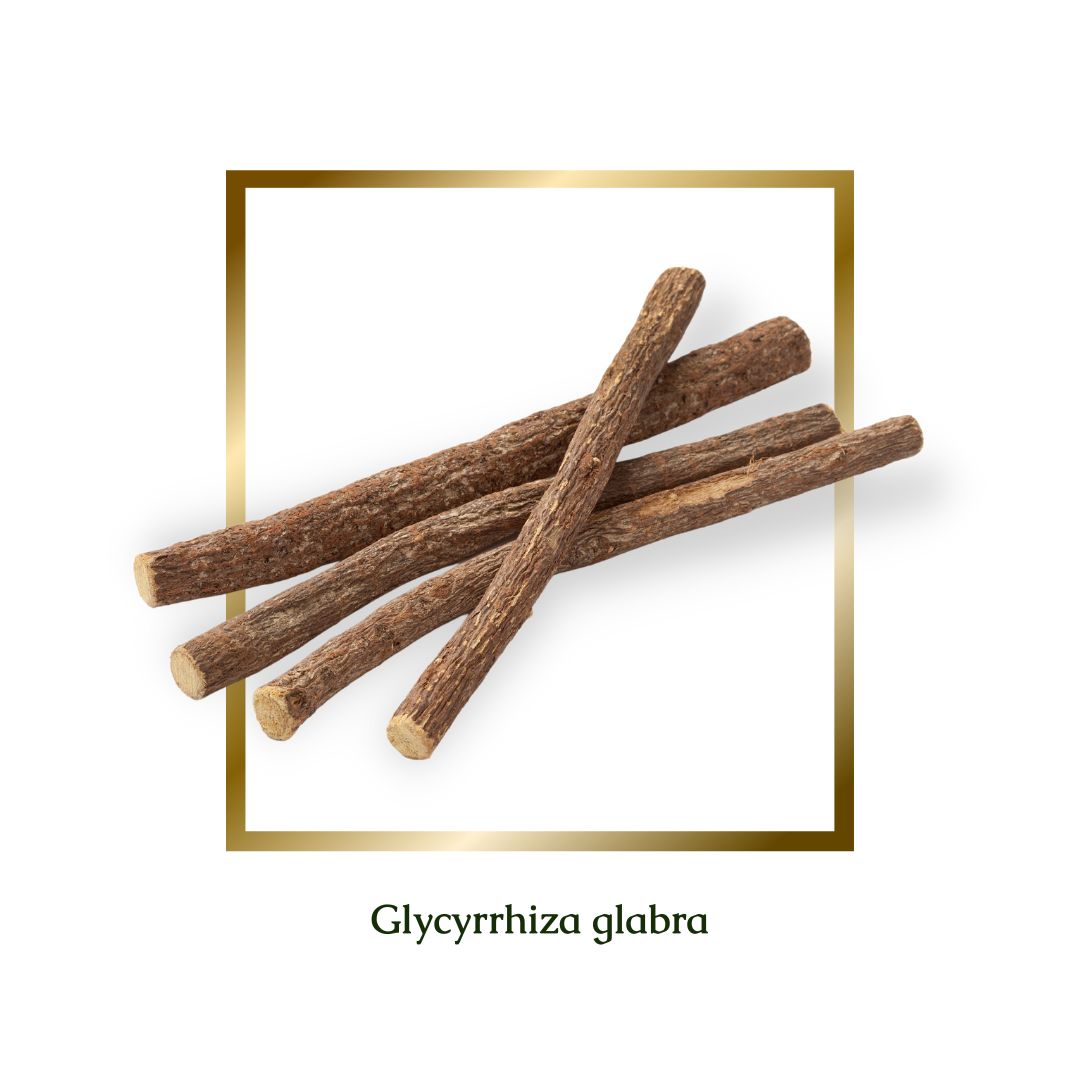 Liquorice (Glycyrrhiza Glabra)
Liquorice is often used in herbal medicine and is approved by the German commission. Liquorice is used for gastritis, cough, bronchitis, ulcers, inflammation and epilepsy.
Reference: ScienceDirect: Native Medicines and Cardiovascular Toxicity.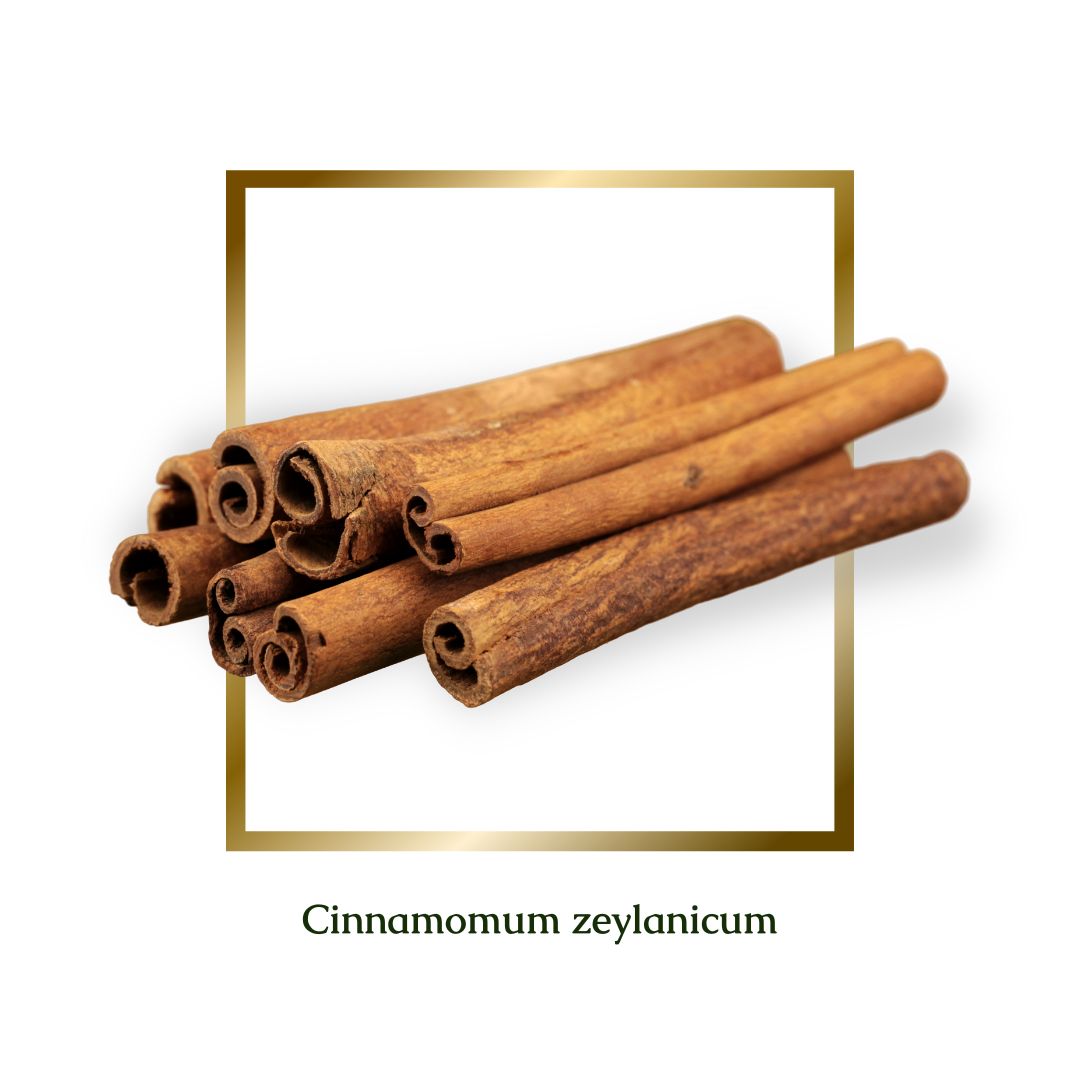 Cinnamon (Cinnamomum Zeylanicum)
It has been said to have an insulin mimetic and insulin sensitising action. The active components cinnamaldehyde and cinnamic acid are said to be cardio protective due to their ability to produce nitric oxide as well as the associated anti-inflammatory property (Song F, Li H, Sun J, Wang S. Protective effects of cinnamic acid and cinnamic aldehyde).
Reference: US National Library of Medicine: Mystic powers of a minute ingredient.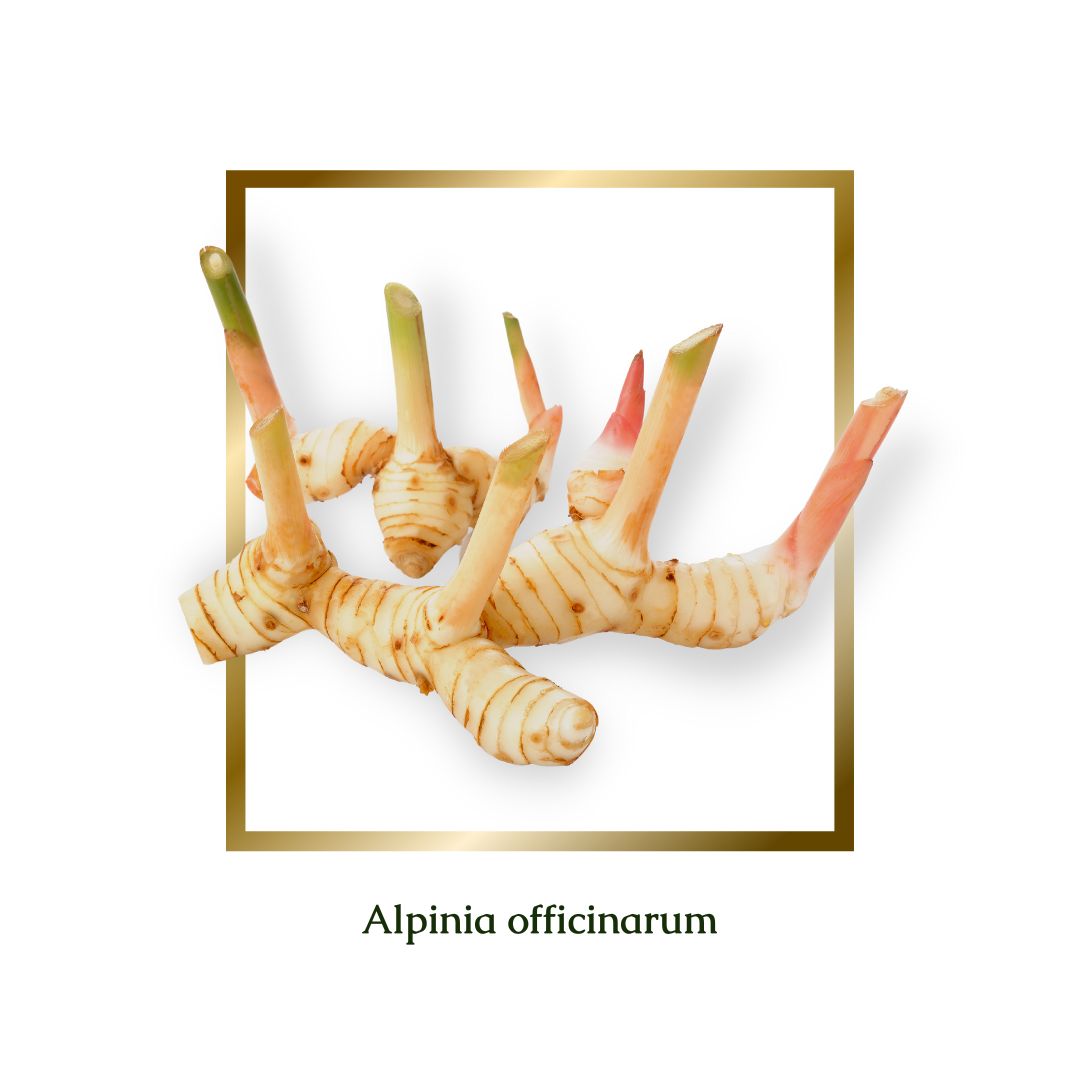 Lesser Galangal (Alpinia Officinarum)
Galangin is one of the major bioactive compounds that possesses the anticancer, anti-inflammatory, antioxidant activity. The plant has traditionally been used as a remedy for a wide variety of maladies, including abdominal pain, diarrhoea, rheumatism, hiccups, digestive problems and even cancer (International Journal of Advanced Research).
Reference: ScienceDirect: A Review of the Botany, Phytochemical, and Pharmacological Properties of Galangal.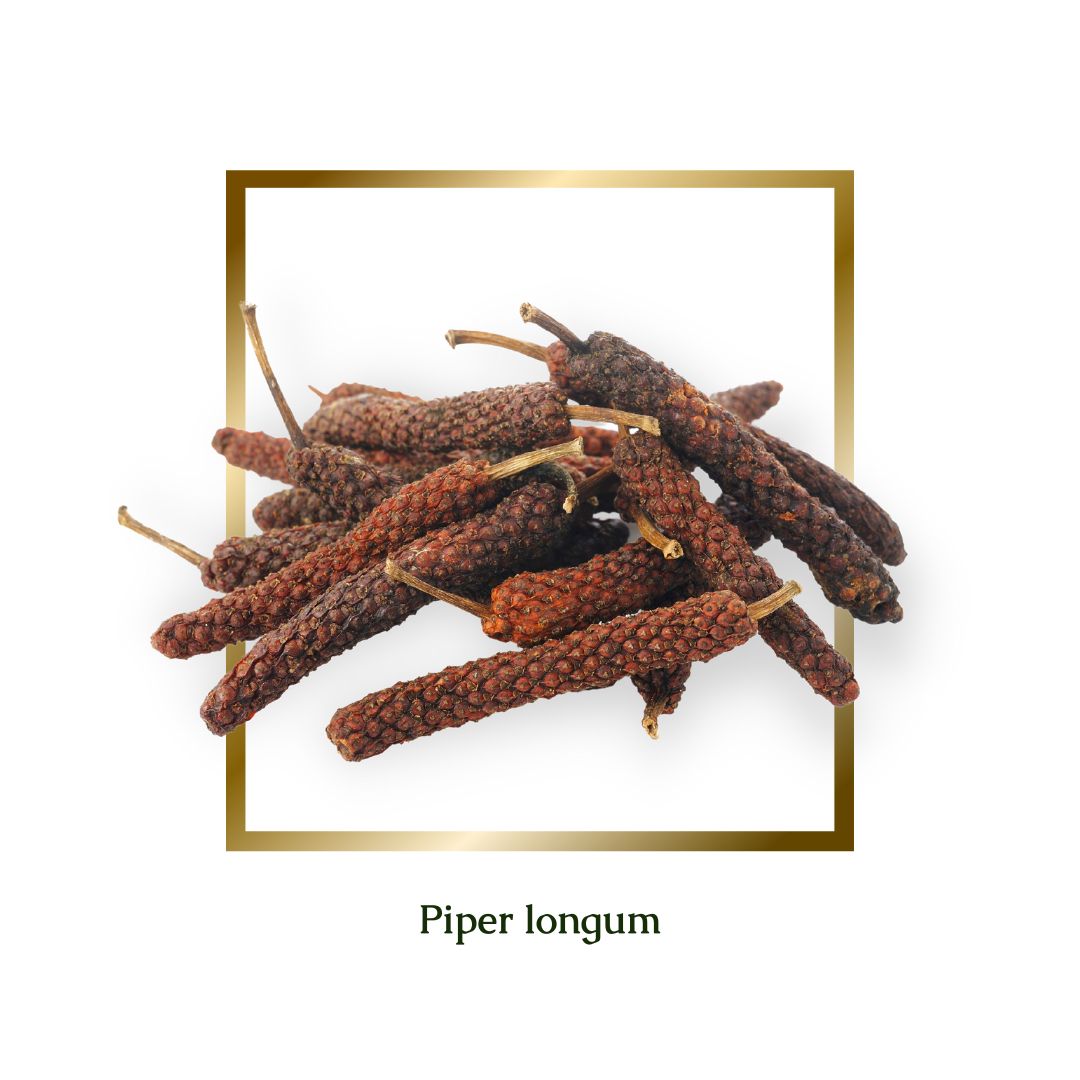 Long Pepper (Piper Longum)
This plant is effective for many diseases, including cancer, inflammation, depression, diabetes, obesity and hepatotoxicity. Methanolic extract of this fruit has been reported to be involved in memory repairment and improving memory performance as shown by in vitro model (Hritcu et al., 2014).
Reference: ResearchGate: Overview for Various Aspects of the Health Benefits of Piper Longum.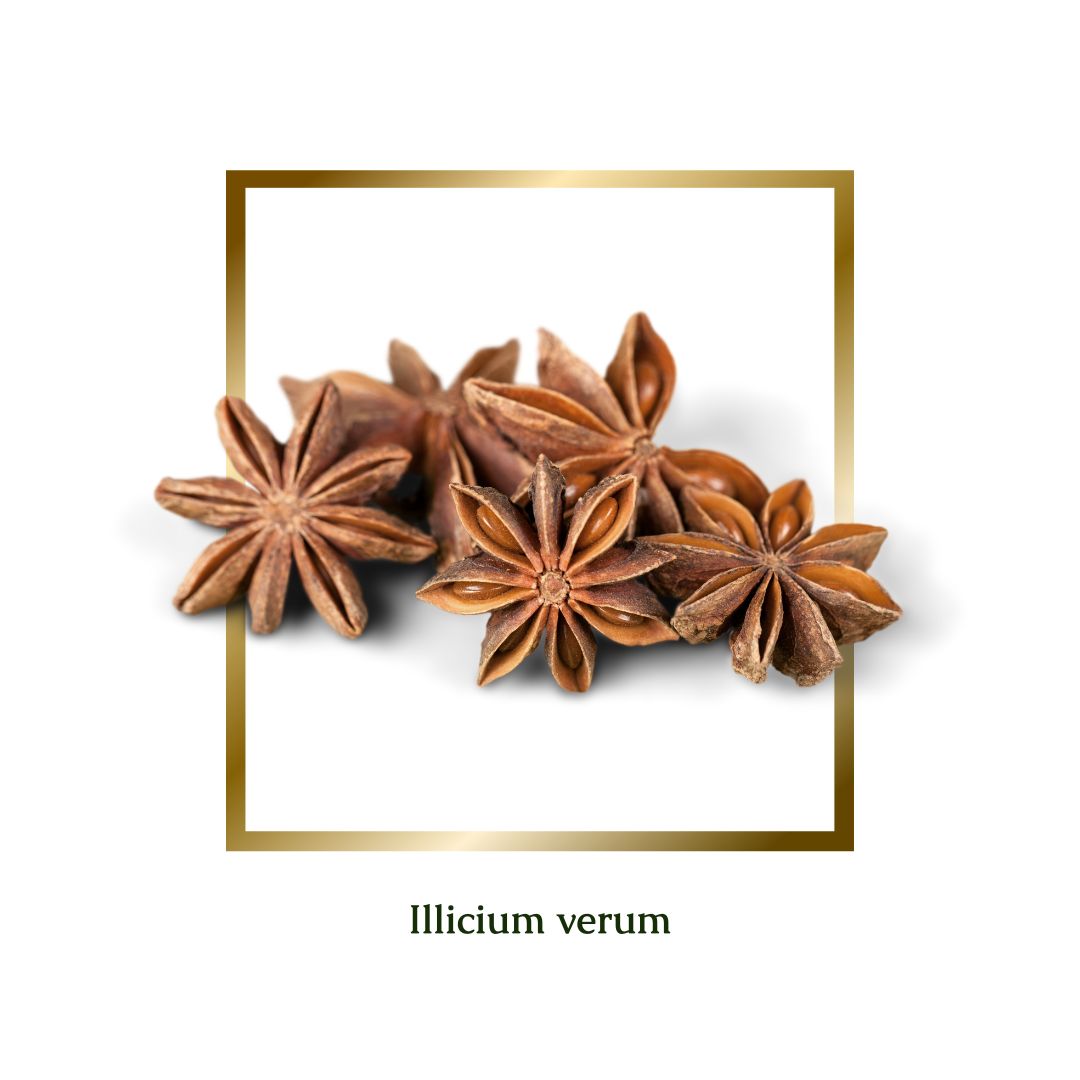 Star Anise (Illicium Verum)
Diseases induced by free radicals and nicotine has been claimed remarkably reduced by star anise because it has anti-carcinogenic agents. The anticancer action is because of flavonoids, resveratrol and curcumin (Journal of the Saudi Society of Agricultural Sciences).
Reference: ResearchGate: Star Anise: A review on benefits, biological activities and potential uses.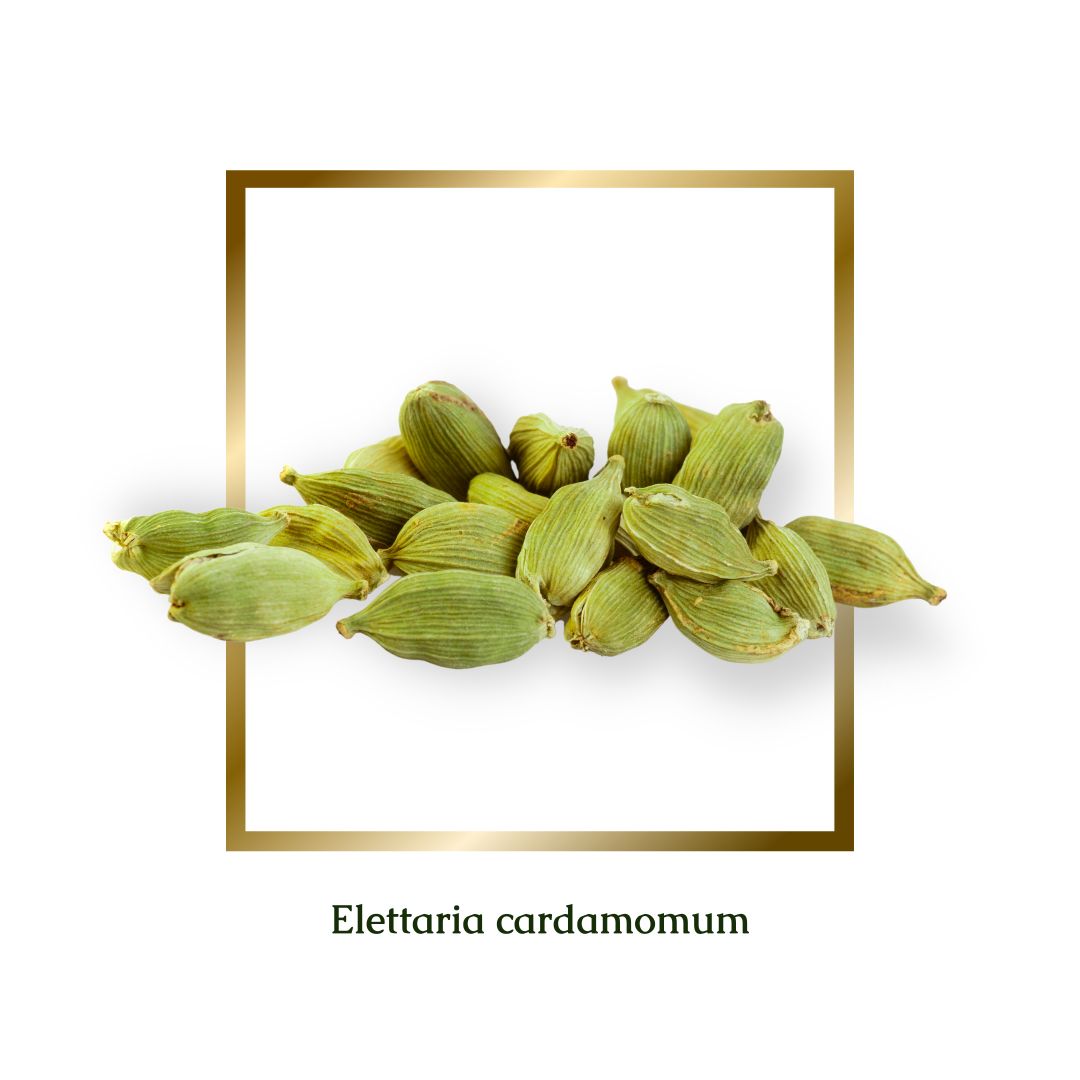 Cardamom (Elettaria Cardamomum)
Small cardamom is well known as the 'queen of spices'. Its primary use is generally for digestive system disorder, spastic colon relief, and constipation (Bakhru, 2001; Korikanthimathm, Prasath, & Rao, 2000).
Reference: ResearchGate: Medicinal properties of Elettaria Cardamomum.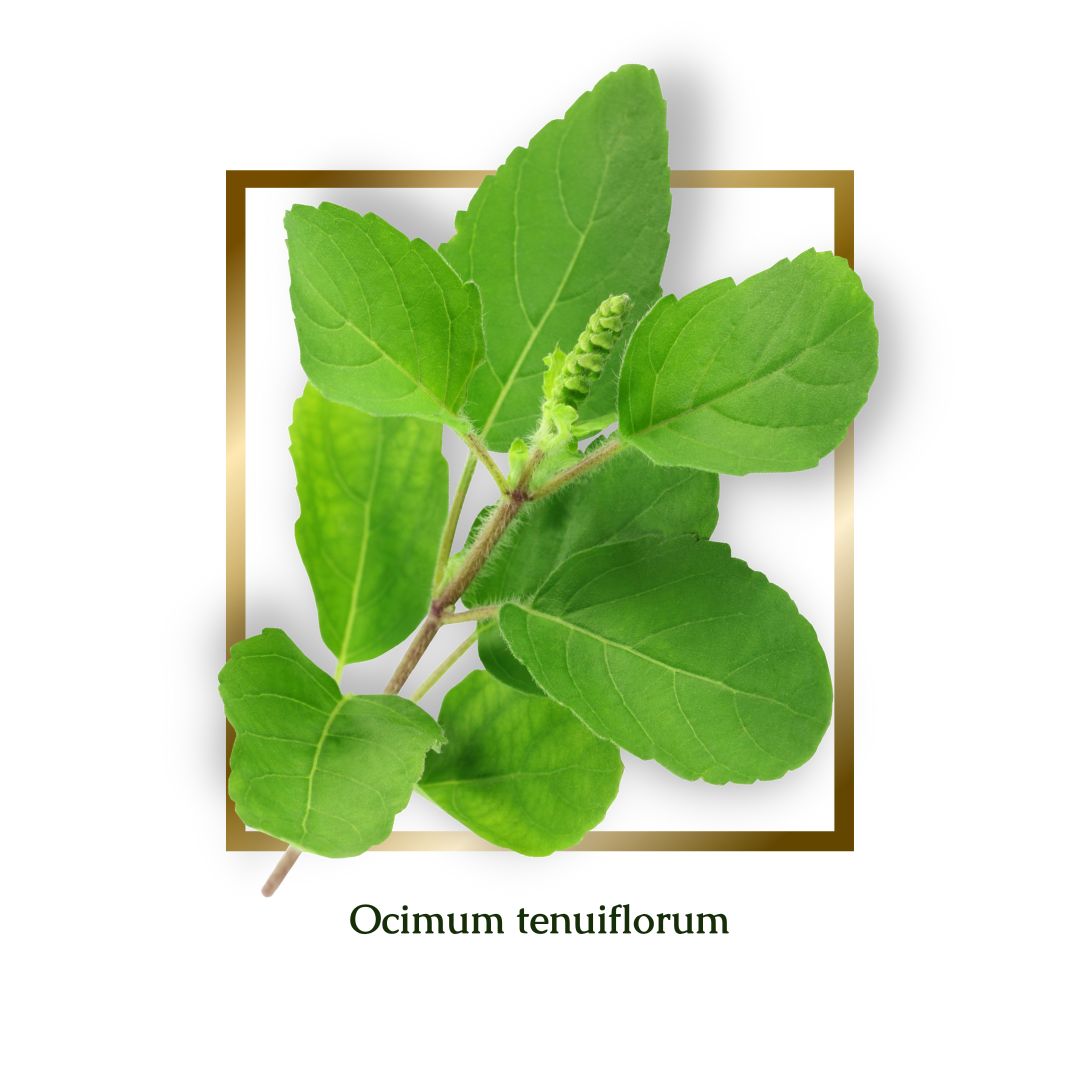 Holy Basil Leaves (Ocimum Tenuiflorum)
It has beneficial effect in cardiac diseases and the weakness resulting from the various cardiac disorders. It even reduces the level of blood cholesterol.
Reference: ResearchGate: Therapeutic benefits of Holy Basil in general and oral medicine: A review.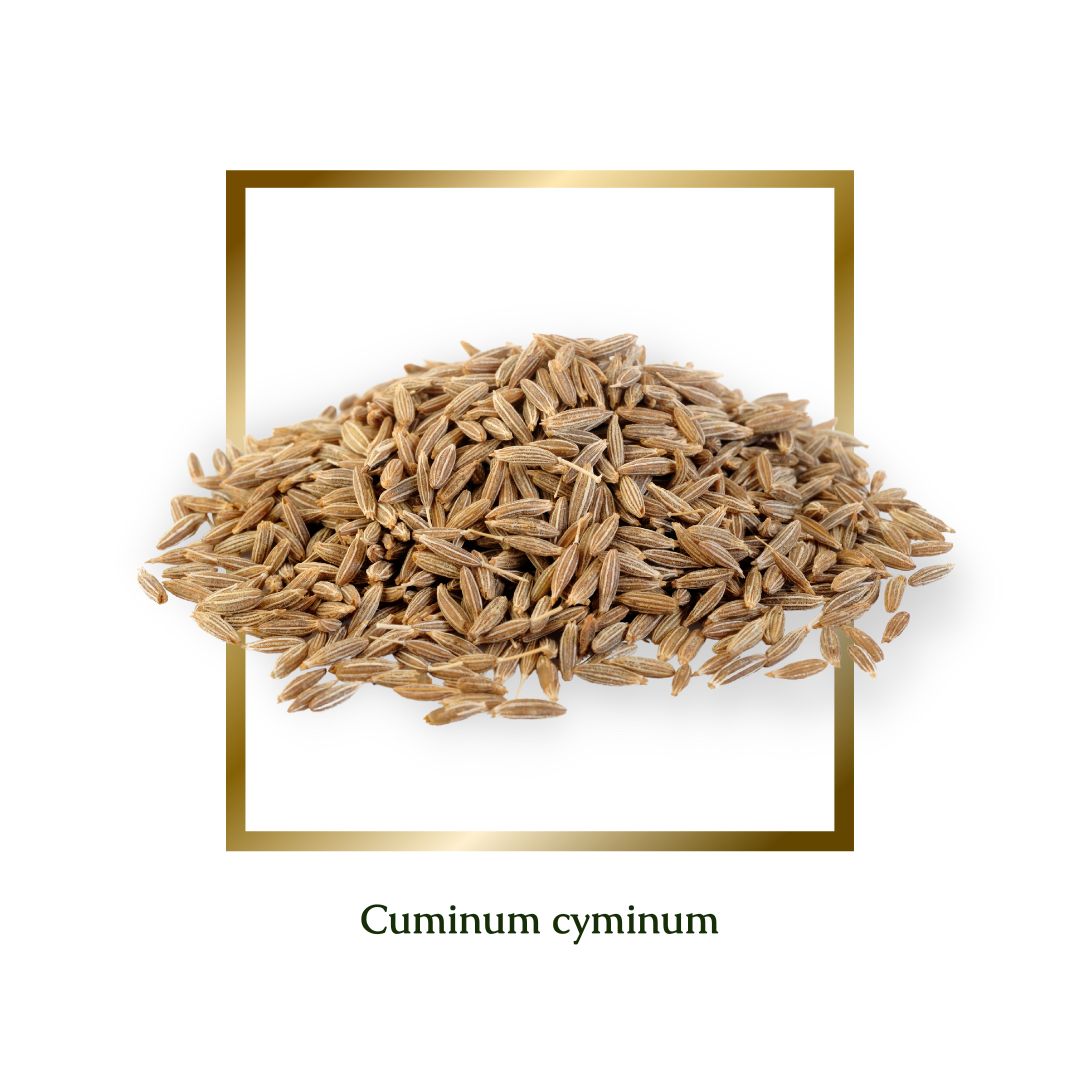 Cumin (Cuminum Cyminum)
Cumin has been found to possess various pharmacological activities such as immunomodulator, anti-diabetic, anti-microbial, anti-fungal, analgesic, hepatoprotective, anti-osteoporotic, antioxidant, anti-inflammatory, anti-asthmatic, anti-stress, anti-infertility, dietary fibre, anti-cancer, blood platelet aggregation, anti-tussive activities and also has ophthalmic effects due to the presence of various chemical constituents.
Reference: Journal of Chemical and Pharmaceutical Research, 2017, 9(9):180-187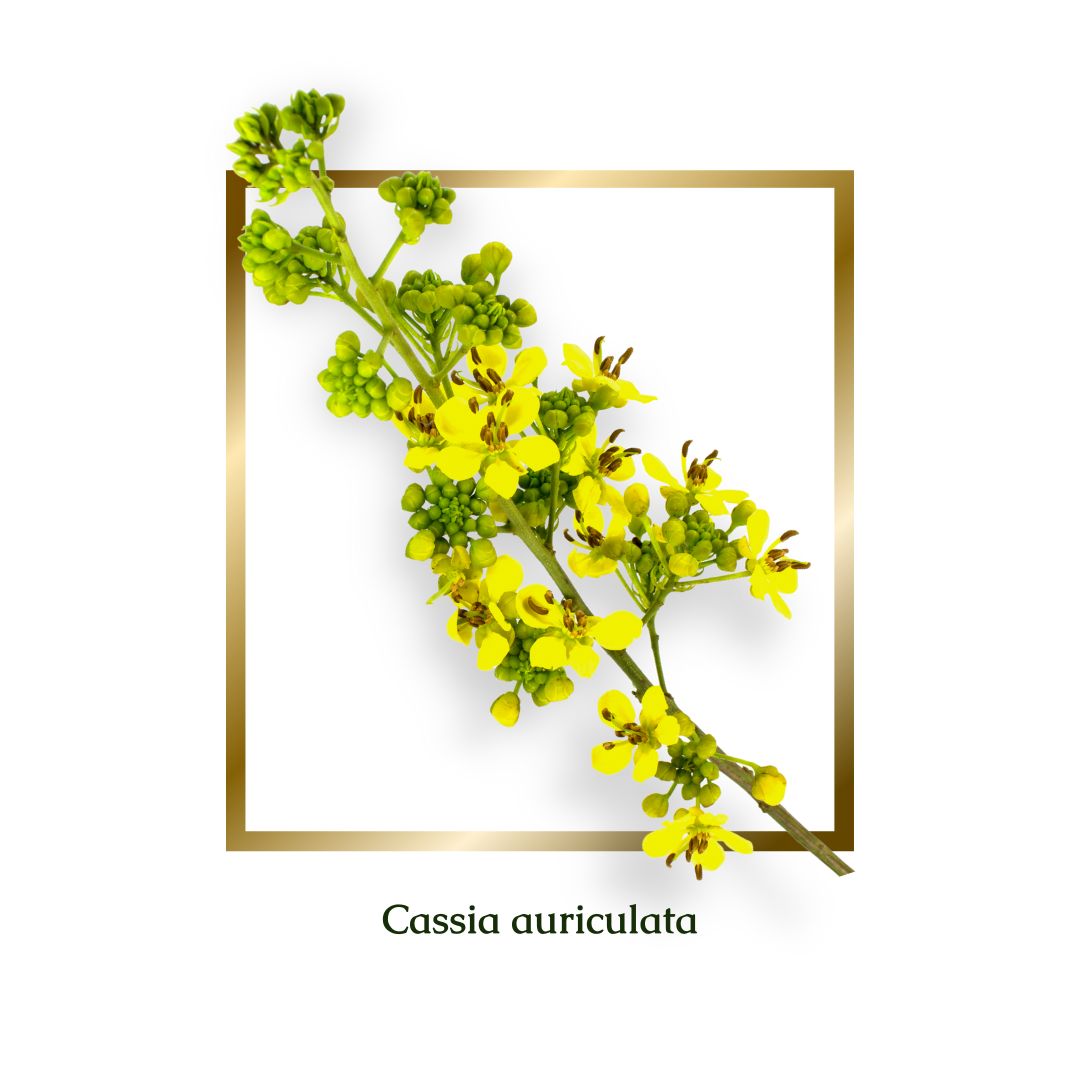 Avaram Senna (Cassia Auriculata)
The results obtained showed that the ethanolic crude extract of Cassia auriculata flowers can be considered as good sources of anti-oxidants, anti- inflammatory and can be incorporated into the drug formulations. Encouragingly, treatment with Cassia auriculata extract caused significant improvement in the glucose, insulin, lipid levels in plasma and the antioxidant status of liver and pancreas. It has been proved to be effective as anti-cancer, immunomodulatory, anti-bacterial, anti-microbial, anti-oxidant and anti-diabetic activities.
Reference: A Review on Cassia auriculata (Department of Pharmacology, National College of Pharmacy, Balraj Urs Road, Shivamogga (Dist) 577201)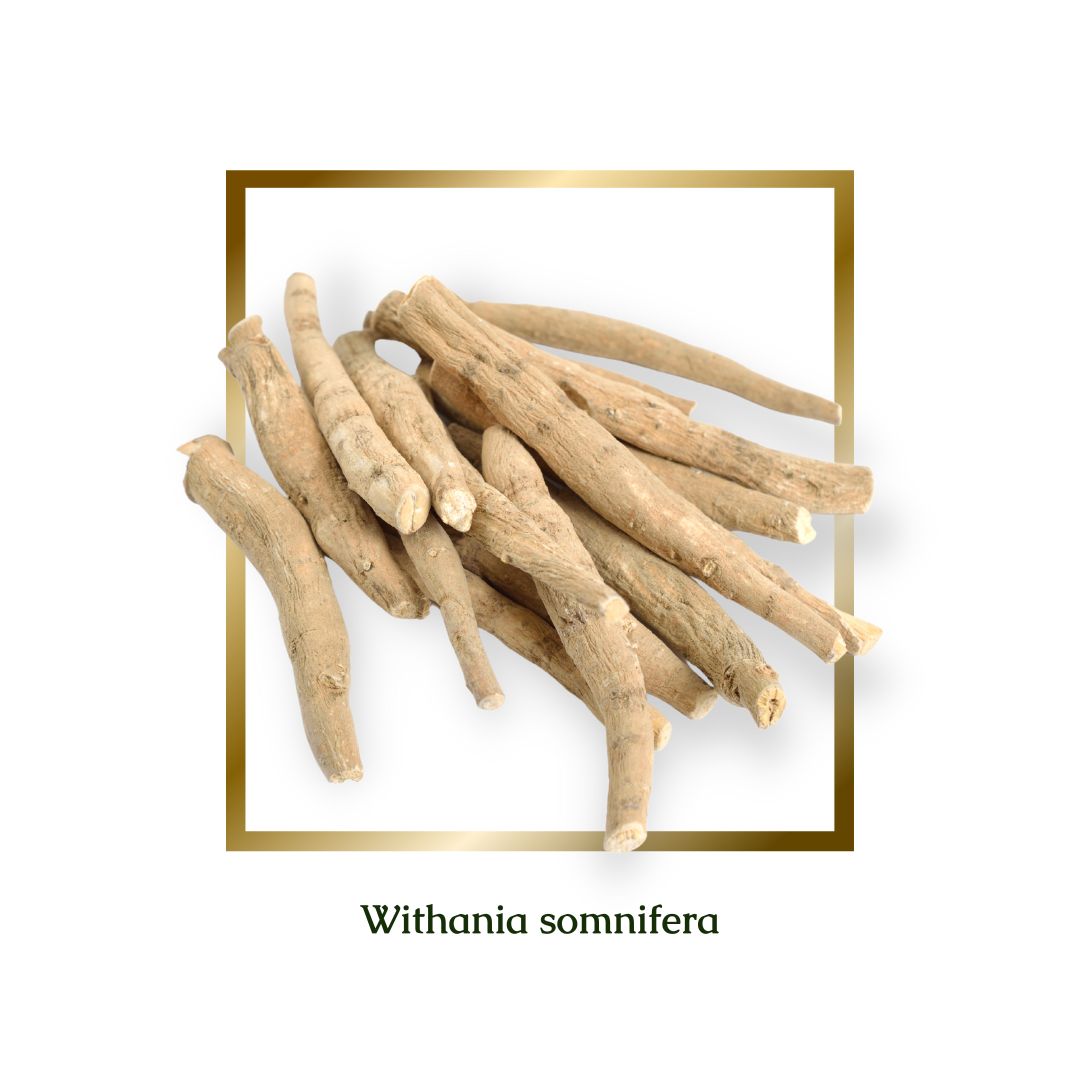 Indian Ginseng/Winter Cherry (Withania Somnifera)
A randomized controlled trial: This study reports that ashwagandha supplementation is associated with significant increases in muscle mass and strength and suggests that ashwagandha supplementation may be useful in conjunction with a resistance training programme.
Reference: ResearchGate: Examining the effect of Withania somnifera supplementation on muscle strength and recovery: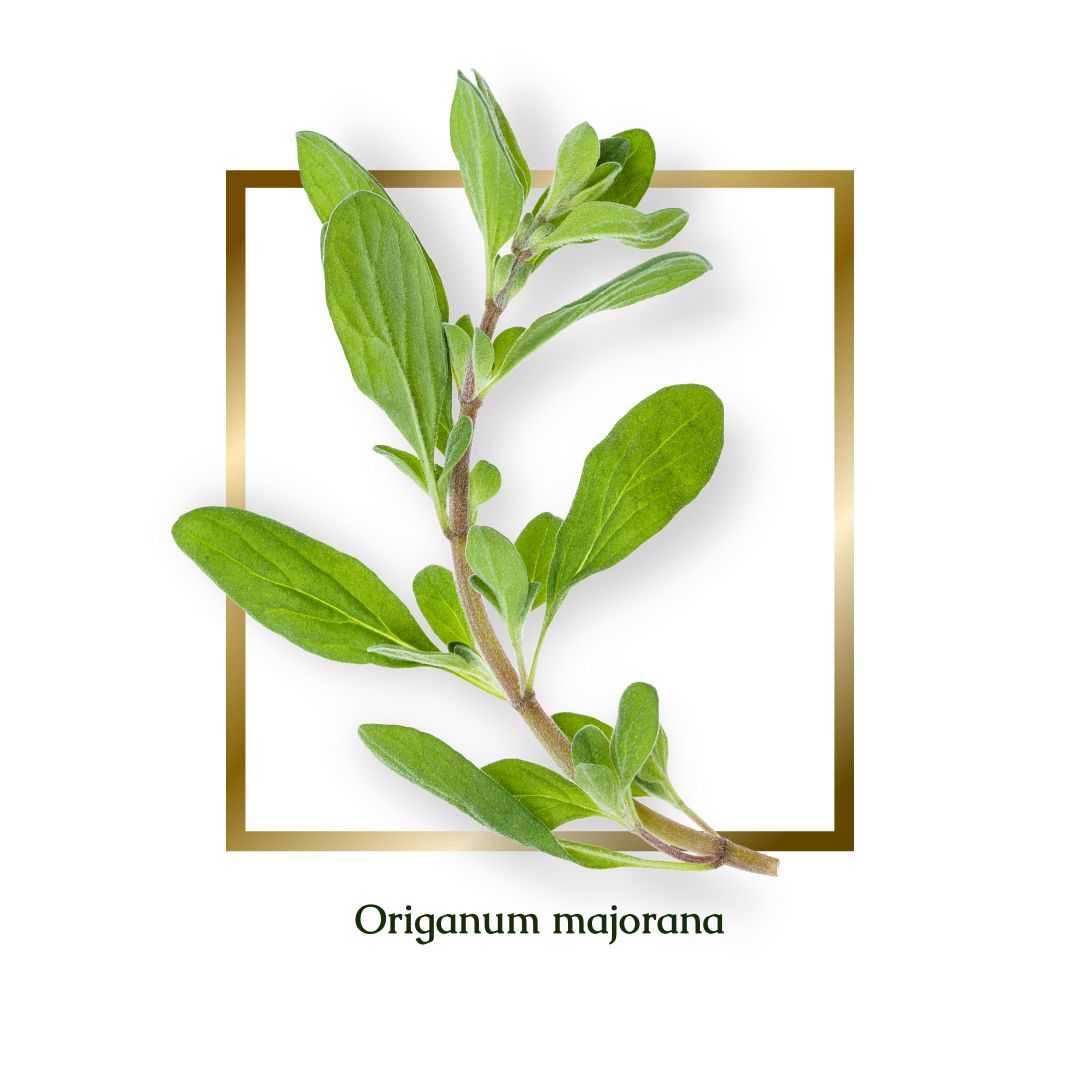 Sweet Marjoram (Origanum Majorana)
Marjoram may be beneficial to hormonal health, especially for women. Marjoram extract was anti-proliferative and showed high antioxidant activity against human leukemia cells. In herbalism, it is used mainly for various gastrointestinal disorders and to aid digestion. Also showed antiulcer activity and mucus protecting effects in gastrointestinal tract.
Reference: US National Library of Medicines: A Review of Ethnopharmacology, Phytochemistry, and Biological Activities.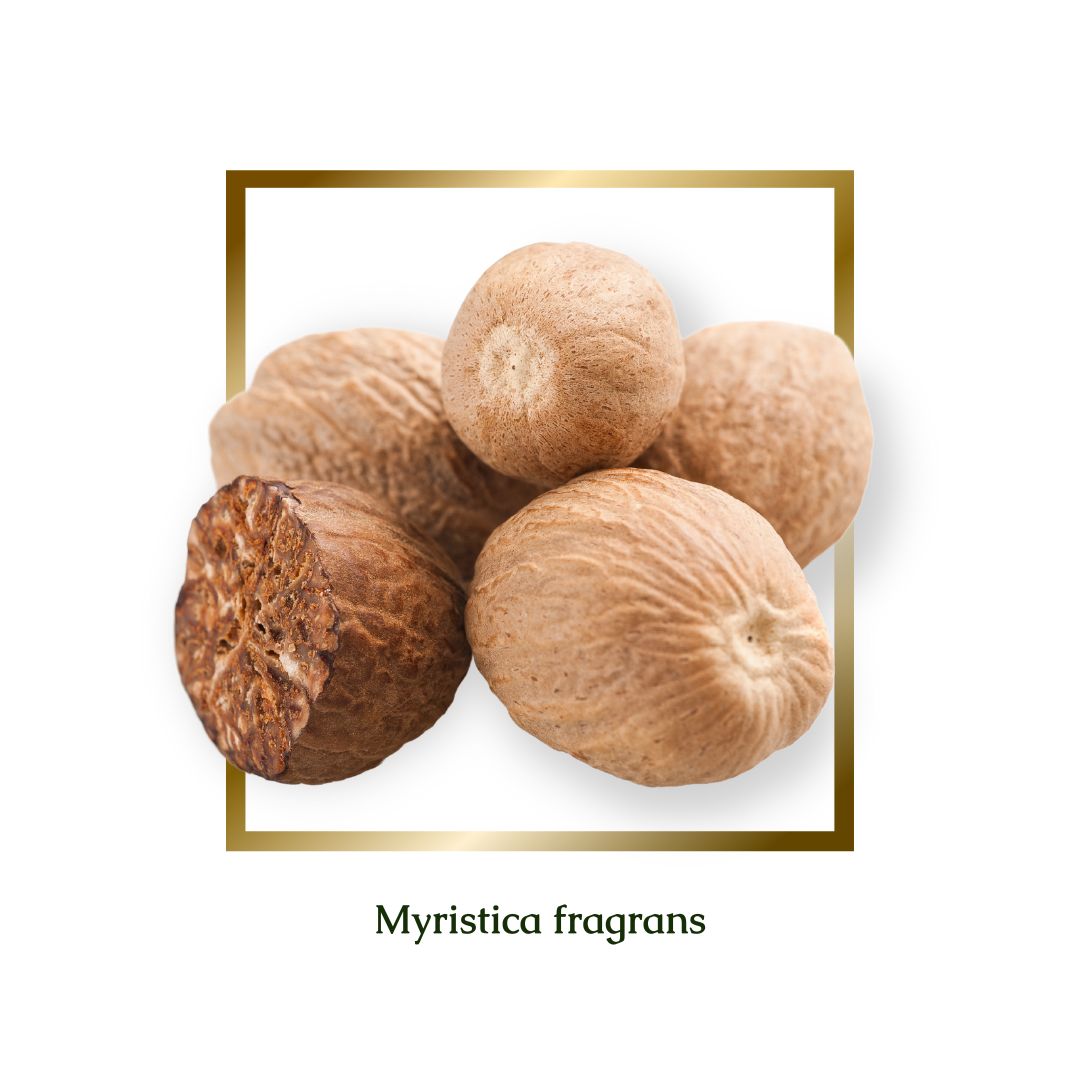 Nutmeg (Myristica Fragrans)
Nutmeg proves to be an excellent tonic for the cardiovascular system. It increases the blood circulation and stimulates the heart functions (Balick and Paul, 2000). Research shows that nutmeg can beat insomnia. It boosts the level of serotonin, which helps induce relaxation in turn. (Pandey, 2005).
Reference: Scientia Agriculturae: Health and Nutritional Benefits of Nutmeg.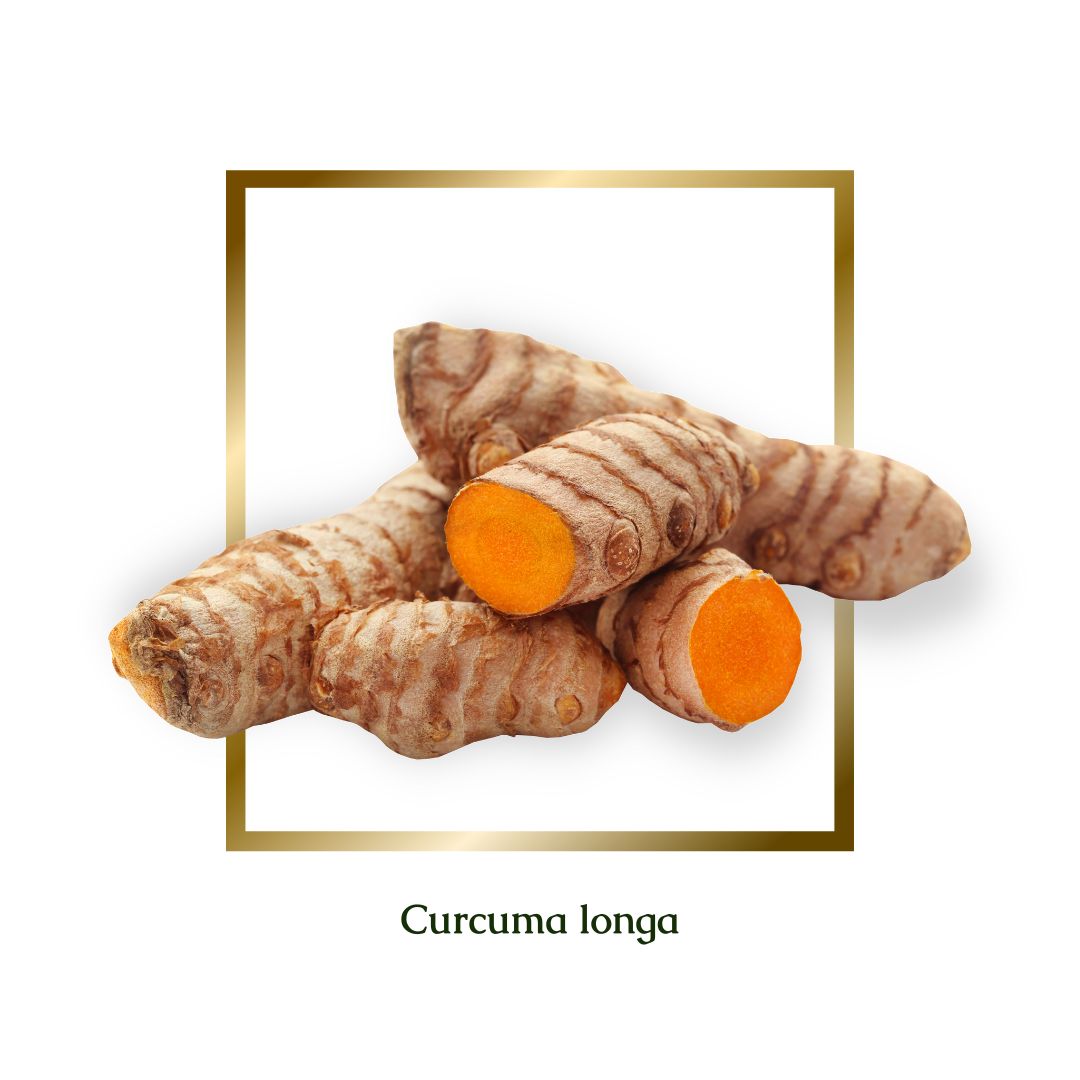 Turmeric (Curcuma Longa)
Turmeric extracts and curcumin can be recommended for alleviating the symptoms of arthritis, especially osteoarthritis (Daily J.W., Yang M., Park S. Efficacy of turmeric extracts and curcumin for alleviating the symptoms of joint arthritis).
Reference: Curcumin: A Review of its Effects on Human Health.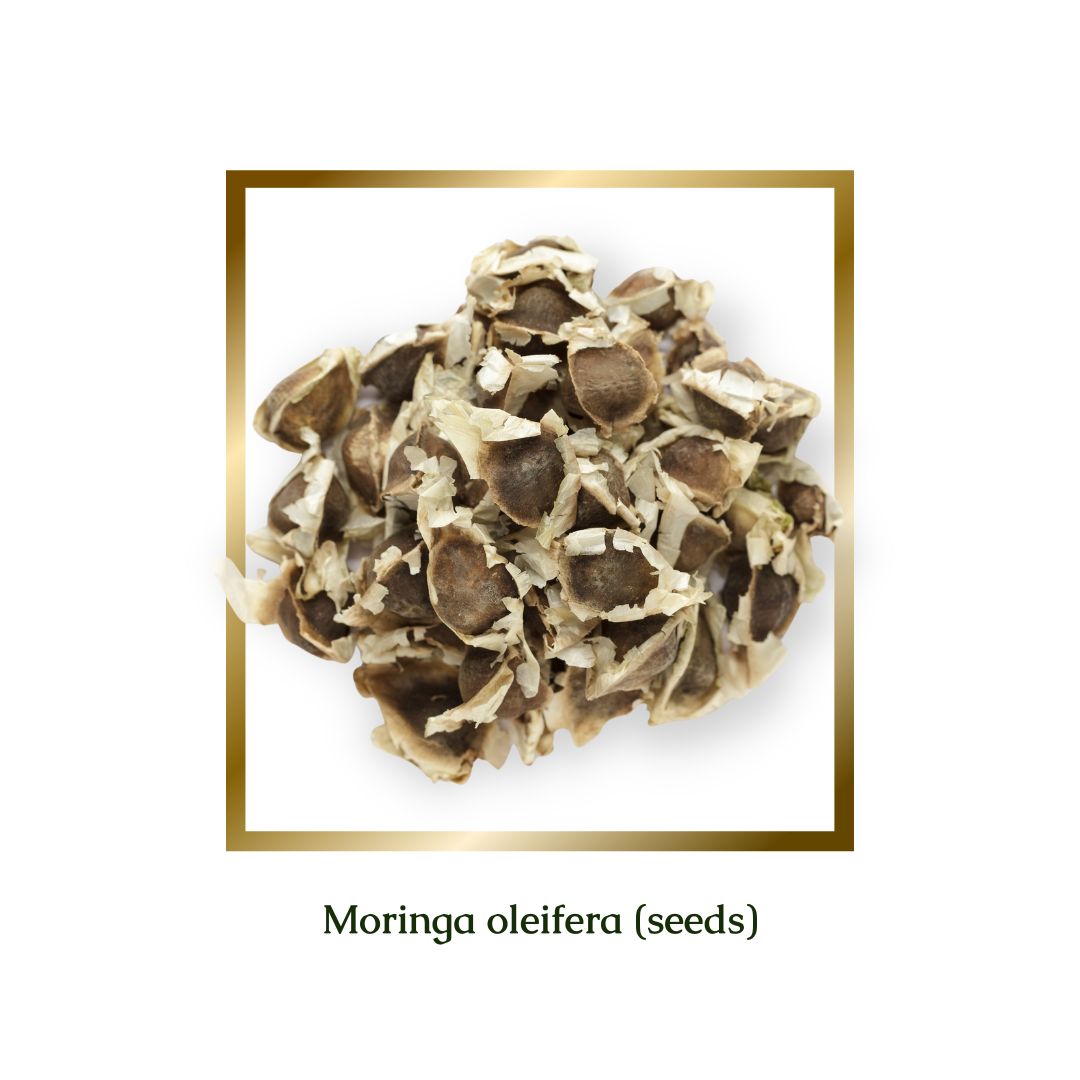 Drumstick seeds (Moringa Oleifera)
Vitamin B6, beta carotene, vitamin C, magnesium, and protein are abundant in these seeds. Has a high nutritional density and can address skin problems and improve digestion and vision.
Reference: A Review of benefits of drumstick seeds for health, skin, and hair.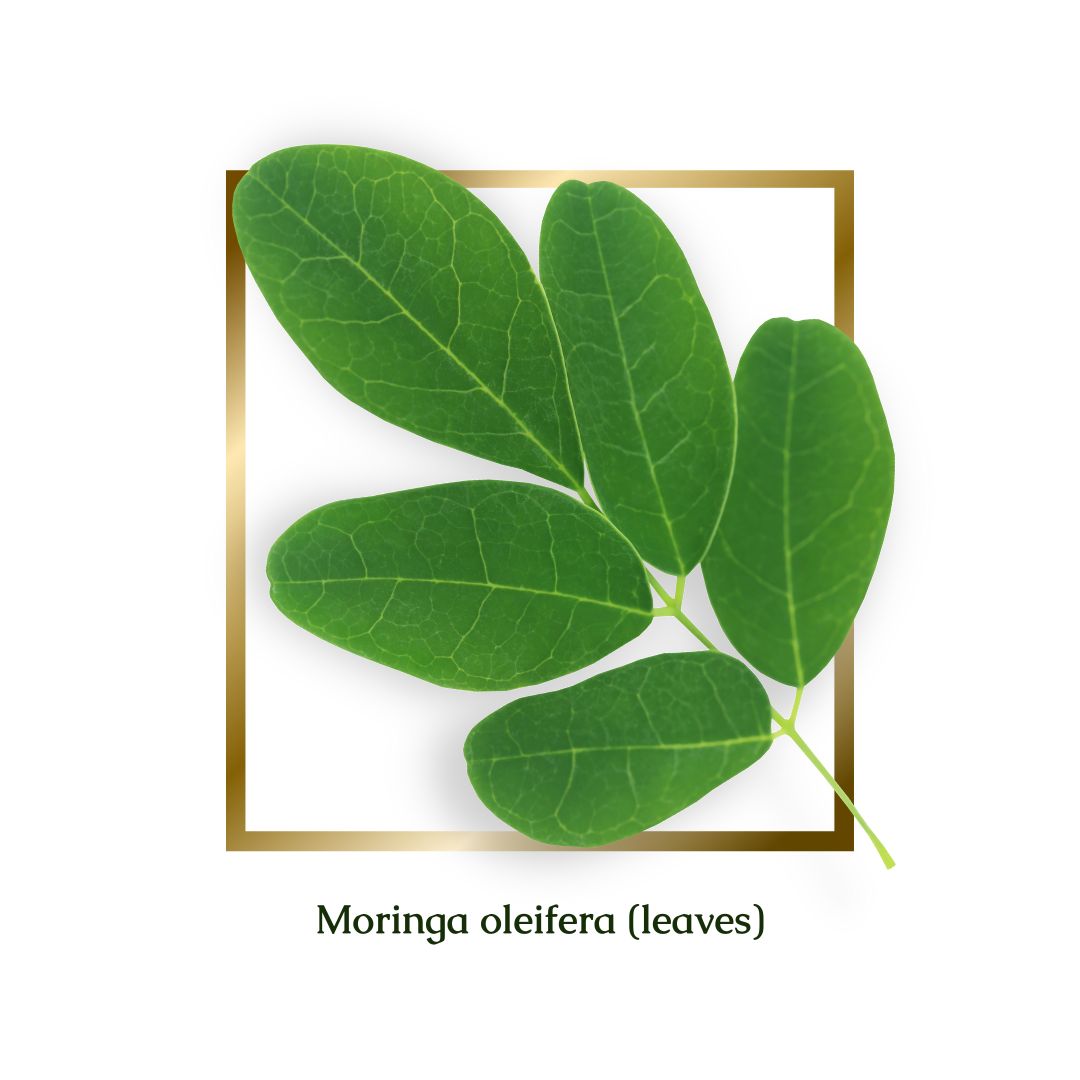 Drumstick leaves (Moringa Oleifera)
Moringa leaves are rich in vitamins, antioxidants, and minerals. Moringa leaves are a rich source of vitamin A, B1, B2, B6, C, and folate. They also contain magnesium, calcium, zinc, iron, and phosphorus. Also protect us from many chronic oxidative diseases, including heart diseases, diabetes, cancer, and Alzheimer's disease.
Reference: A review on nutritive importance and its medicinal application.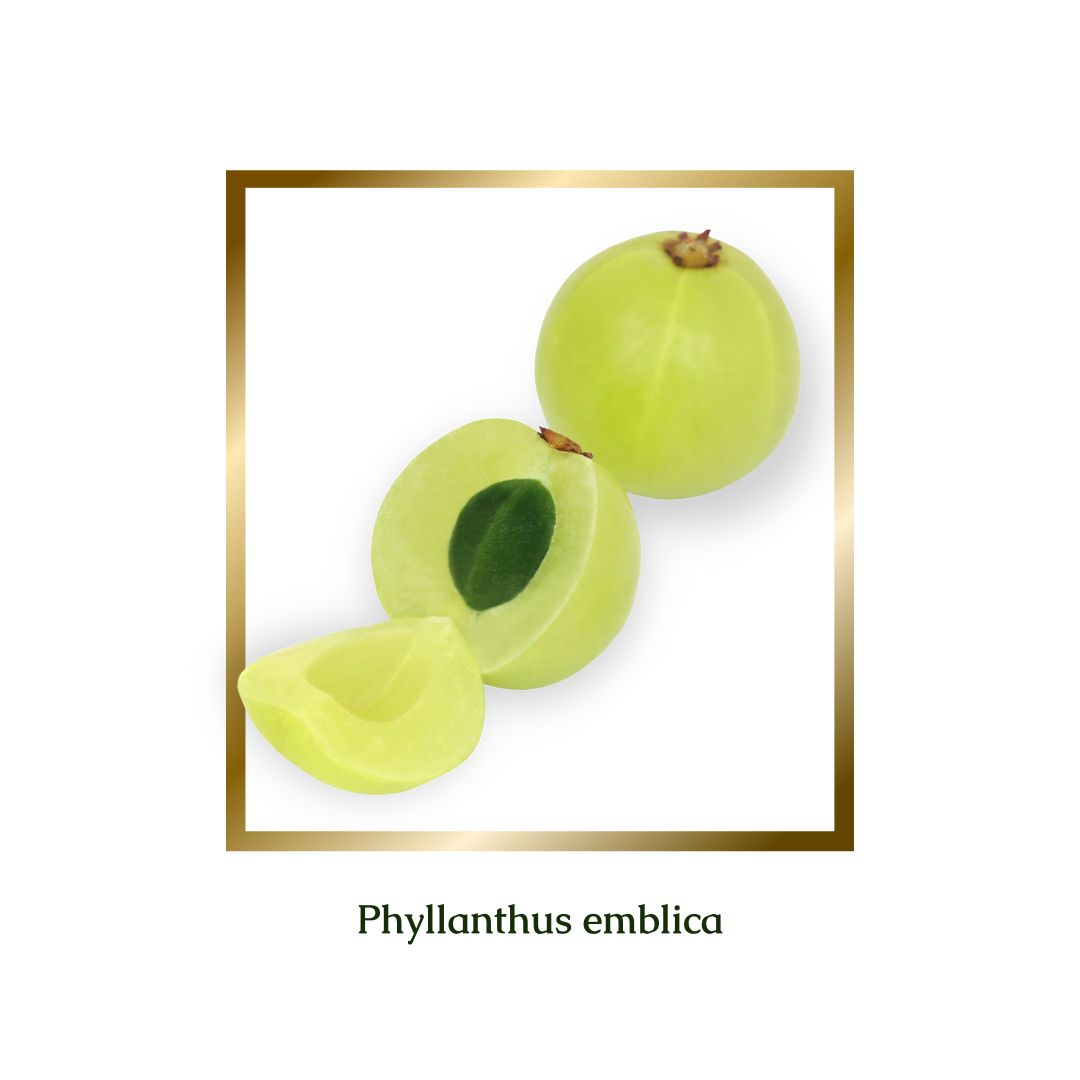 Emblic Myrobalan (Phyllanthus Emblica)
Research has proven that amla can help prevent free radicals, fight cancer and reduce inflammations caused by various conditions because it is rich in antioxidant and anti-inflammatory chemicals such as quercetin, gallic and ellagic acids and corilagin.
Reference: ResearchGate: Health benefits of amla or Indian gooseberry fruit (Phyllanthus emblica).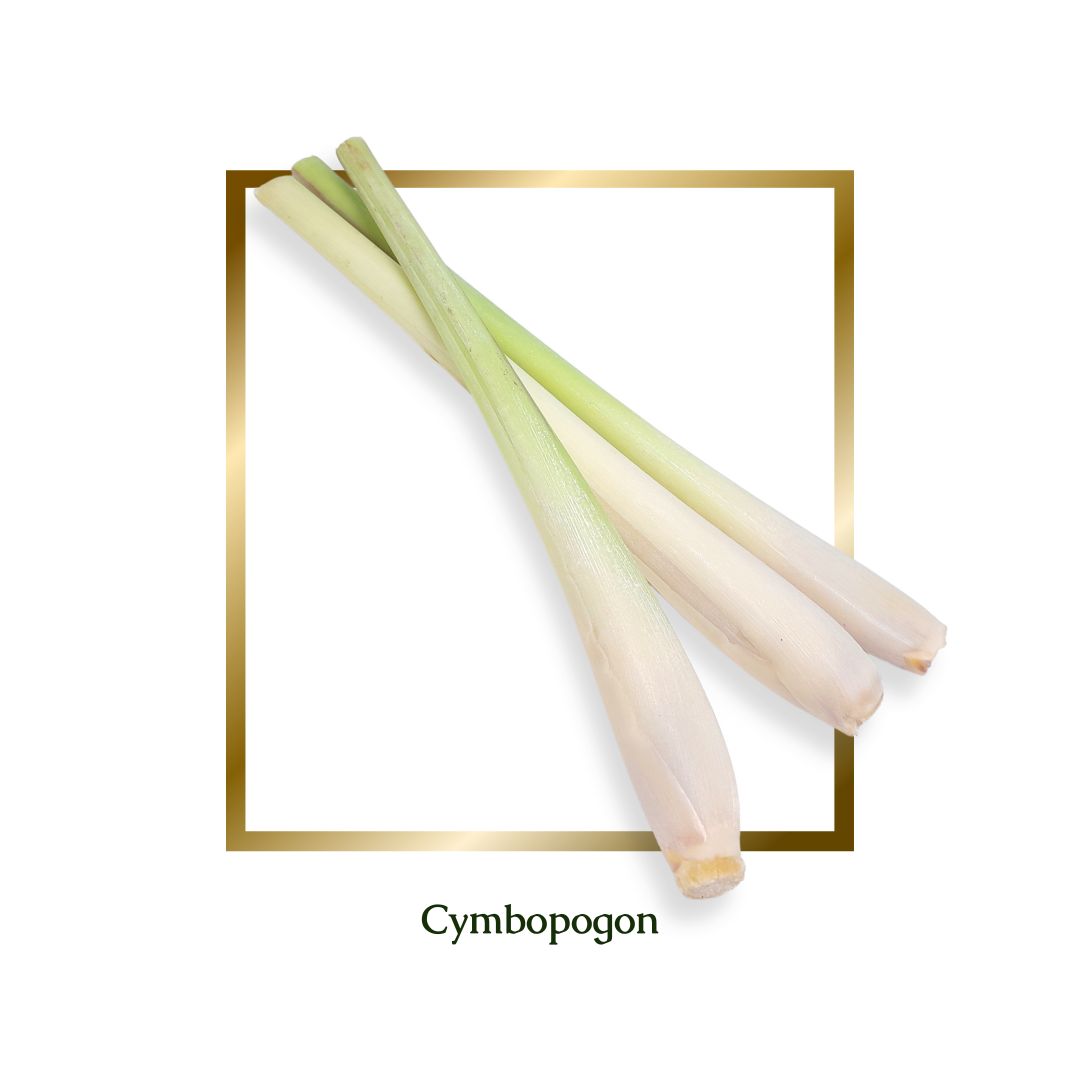 Lemongrass (Cymbopogon)
Lemongrass is a culinary herb with a lemony aroma. It is conventionally used for relieving anxiety, stress and pain. Because of the presence of limonene and citral, lemongrass extracts exhibit antimicrobial, antidandruff and anti-inflammatory effects. (Ranade SS, Thiagarajan P. Lemon Grass. Int J Pharmaceu Sci Rev Res. 2015; 35; 162-67).
Reference: ReviewGate: Therapaeutic benefits of lemongrass.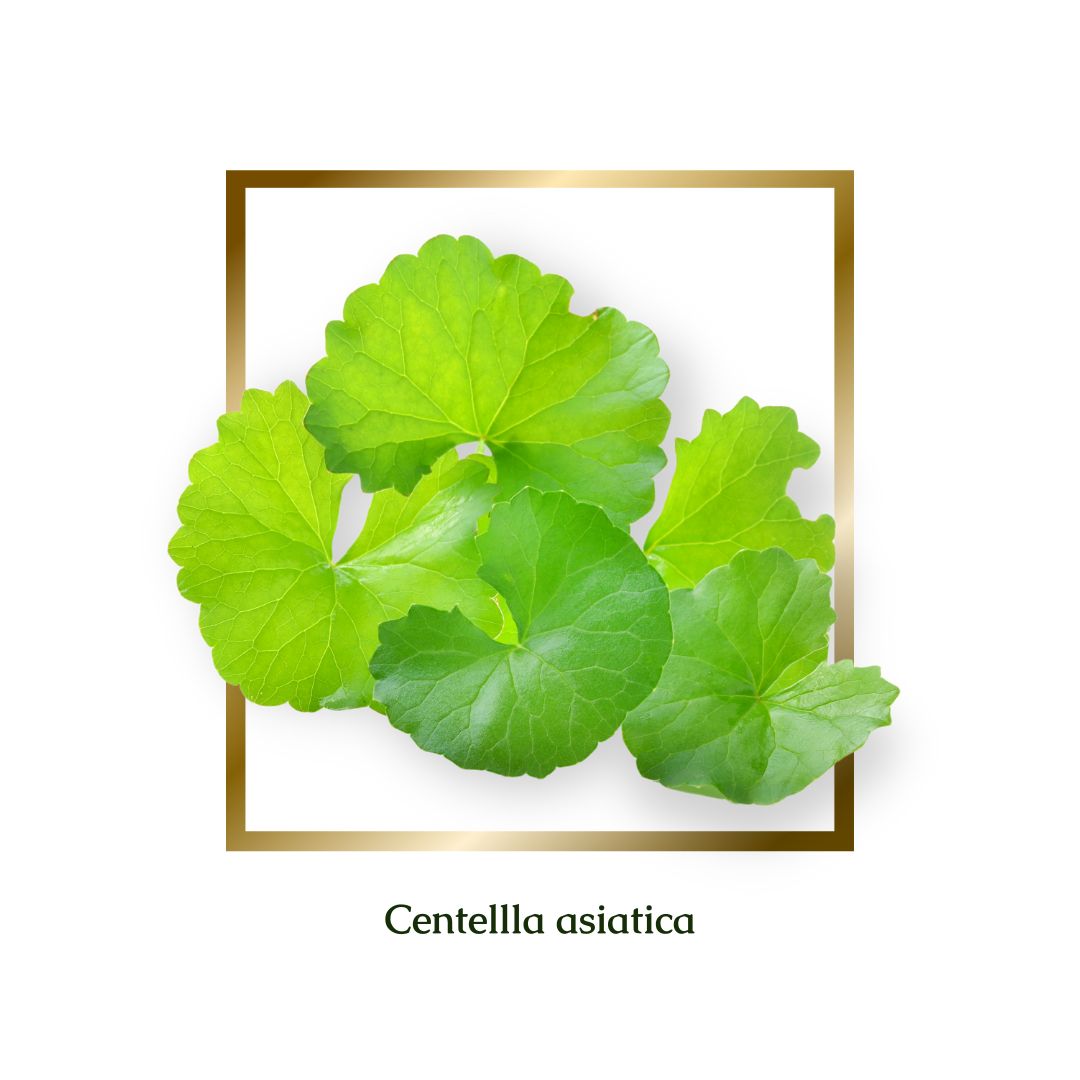 Centella (Centella Asiatica)
Recommended for the treatment of various skin conditions such as leprosy, lupus, varicose ulcers, eczema, psoriasis, diarrhoea, fever, amenorrhea, diseases of the female genitourinary tract and also for relieving anxiety and improving cognition
Reference: Pharmacological Review on Centalla asiatica: A Potential Herbal Cure-all.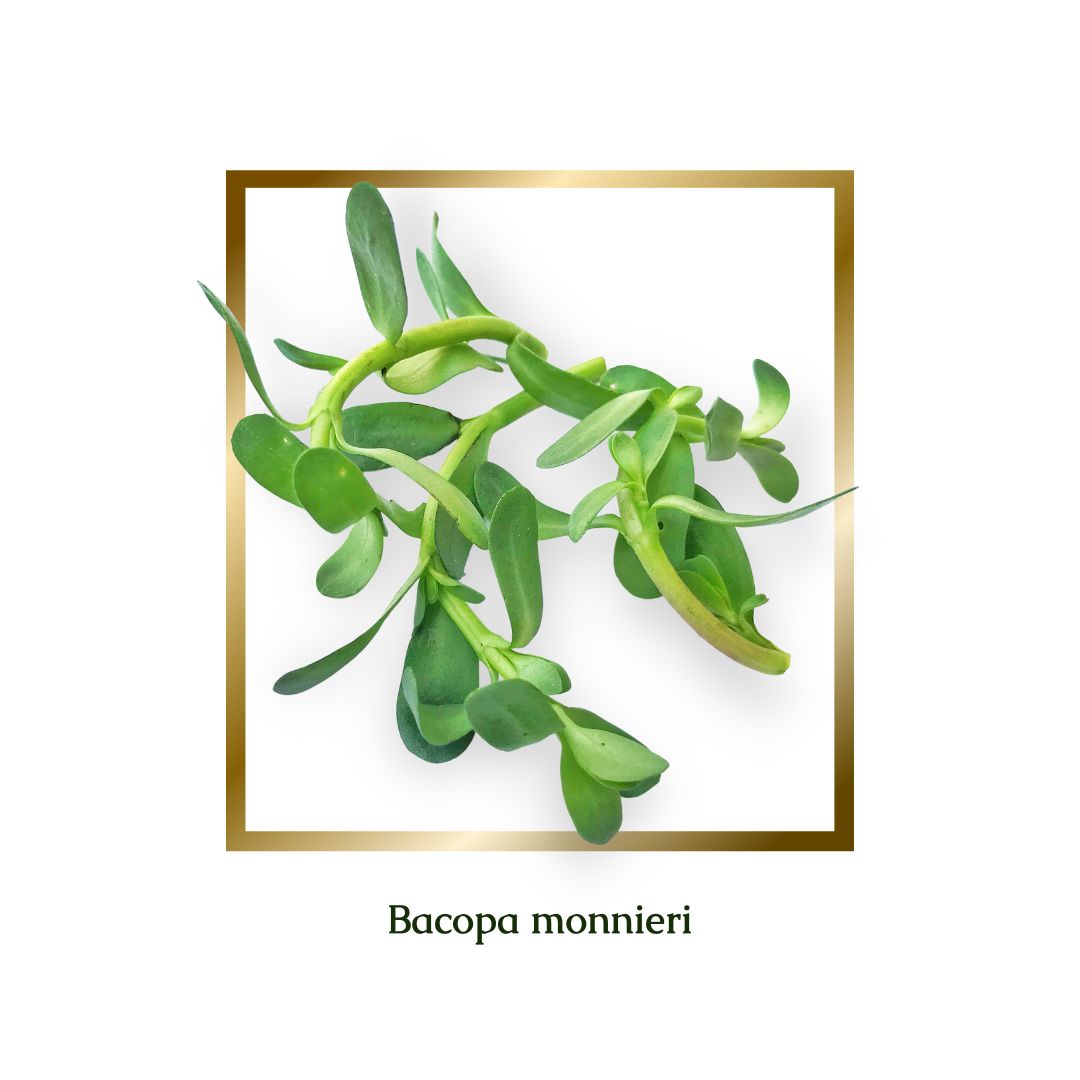 Bacopa (Bacopa Monnieri)
It clearly demonstrated that B. monnieri suppresses AChE activity resulting in enhanced cholinergic function, which in turn enhances attention and memory processing and gives rise to the increased working memory.
Reference: Effects of 12-Week Bacopa monnieri Consumption on Attention, Cognitive Processing, Working Memory, and Functions of Both Cholinergic and Monoaminergic Systems in Healthy Elderly Volunteers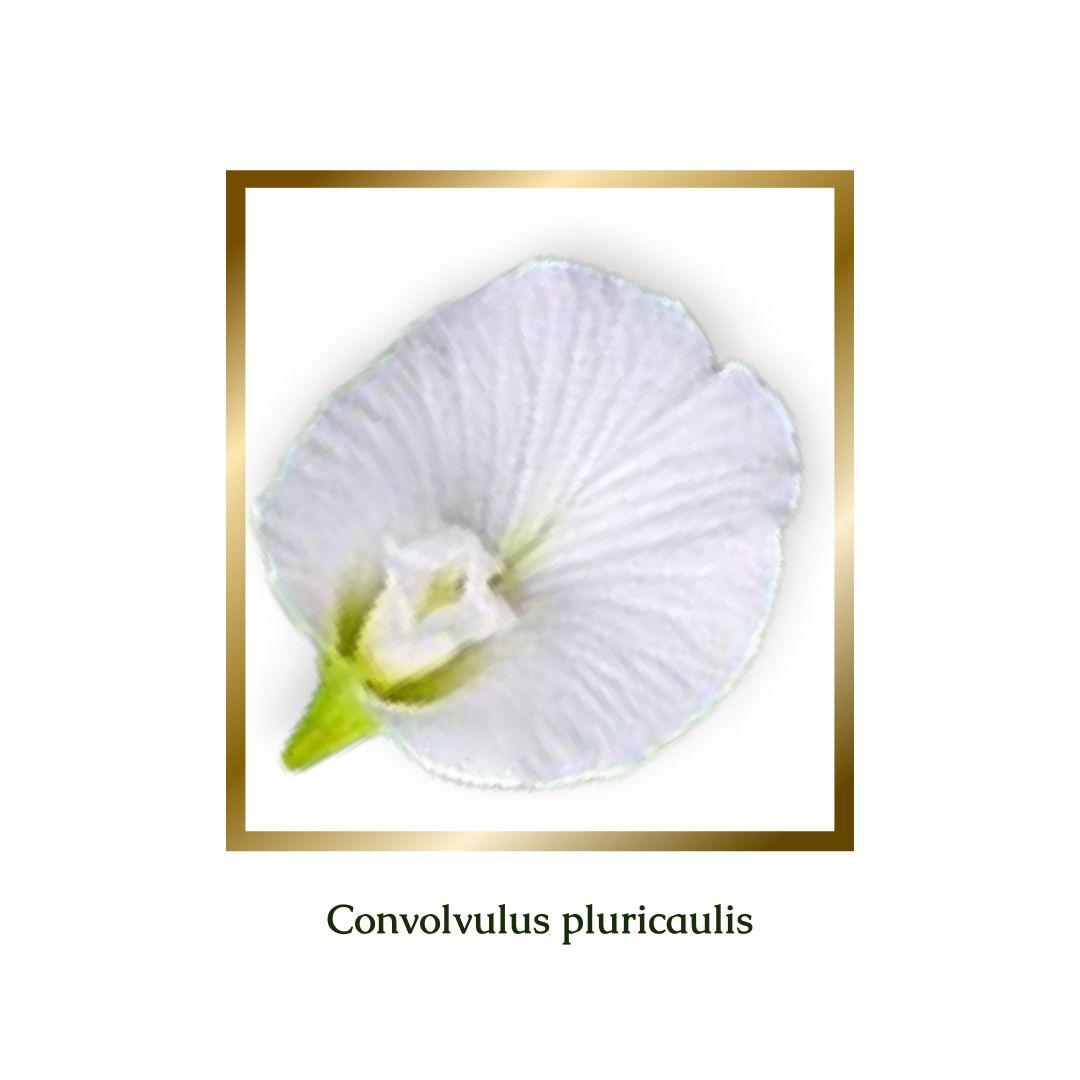 English Speedwheel / Shankhpushpi (Convolvulus Pluricaulis)
Shankhpushpi is considered as "medhya rasayana" in ayurvedic texts. These plants proved their scientific potential in CNS depression, anxiolytic, tranquillizing, antidepressant, anti-stress, neurodegenerative, anti-amensic, antioxidant, hypolipidemic, immunomodulatory, analgesic, antifungal, antibacterial, antidiabetic, antiulcer, anticatatonic, and cardiovascular activity.
Reference: Journal of Advanced Pharmaceutical Technology & Research. (Reviewed by Neeraj K. Sethiya, Department of Pharmacy).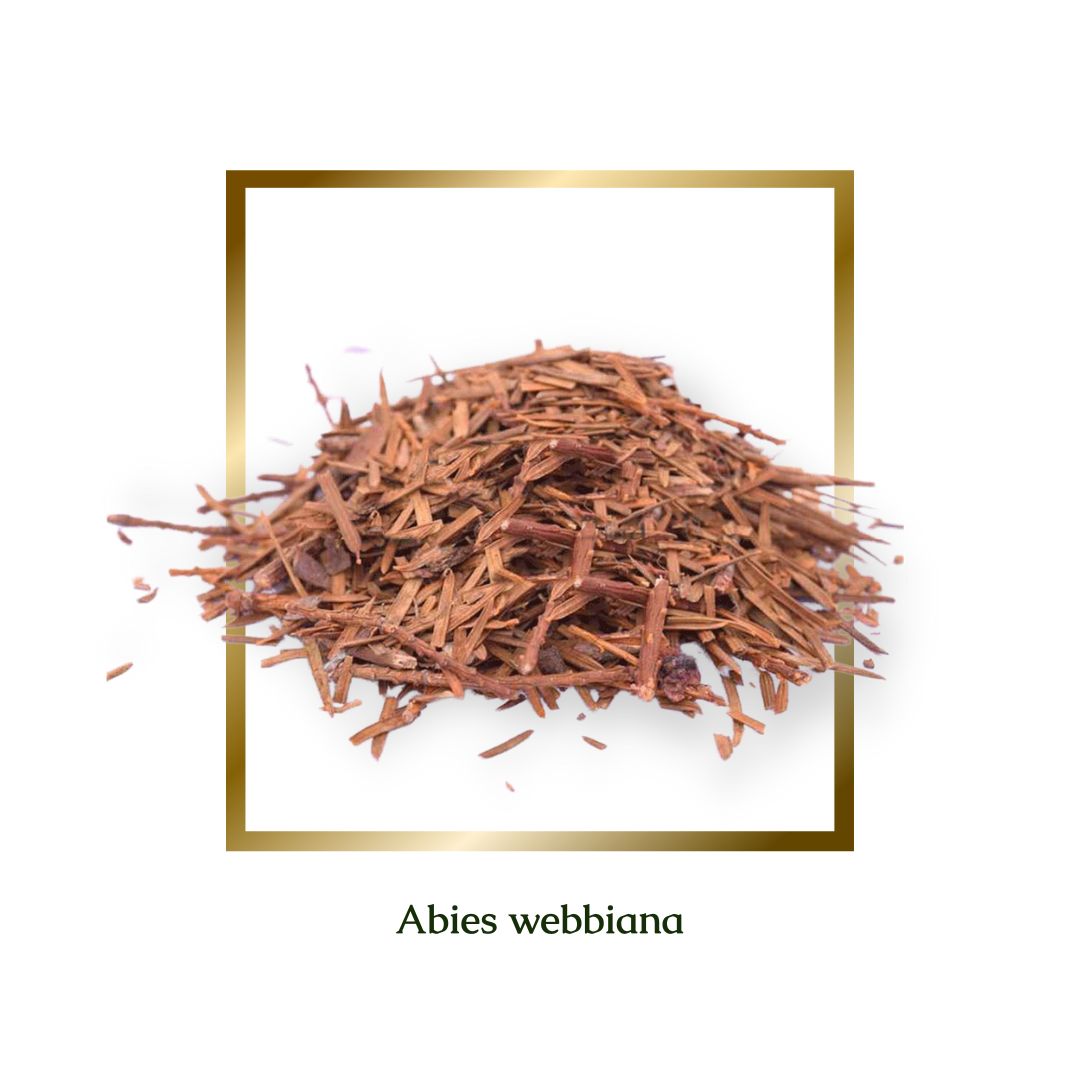 Silver Fir (Abies Webbiana)
Study showed, silver fir wood and bark extracts were shown to have a powerful activity in controlling blood glucose level, by means of the effective inhibition of specific enzymes, such as α-glucosidase, α-amylase, and dipeptidyl peptidase 4.
Reference: ScienceDirect: 3.21.3.4 Hydrodynamic Cavitation–Assisted Aqueous Extraction.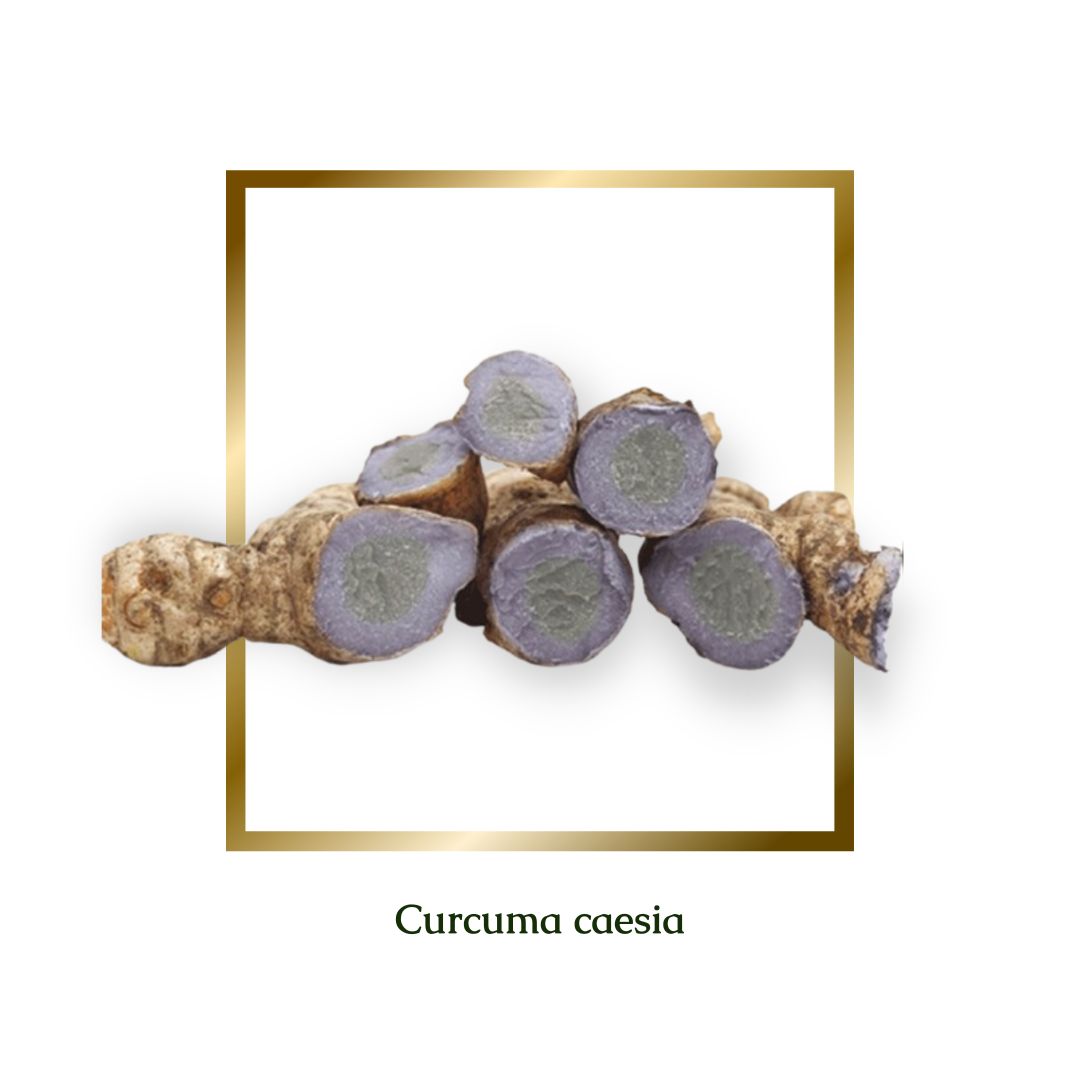 Black Turmeric (Curcuma Caesia)
Black turmeric may also provide relief from inflamed tonsils. It is known to possess antioxidant and anti-fungal properties and may help in fighting inflammation in the body, as well as keep infections away.
Reference: ResearchGate: Medicinal properities of Black Turmeric.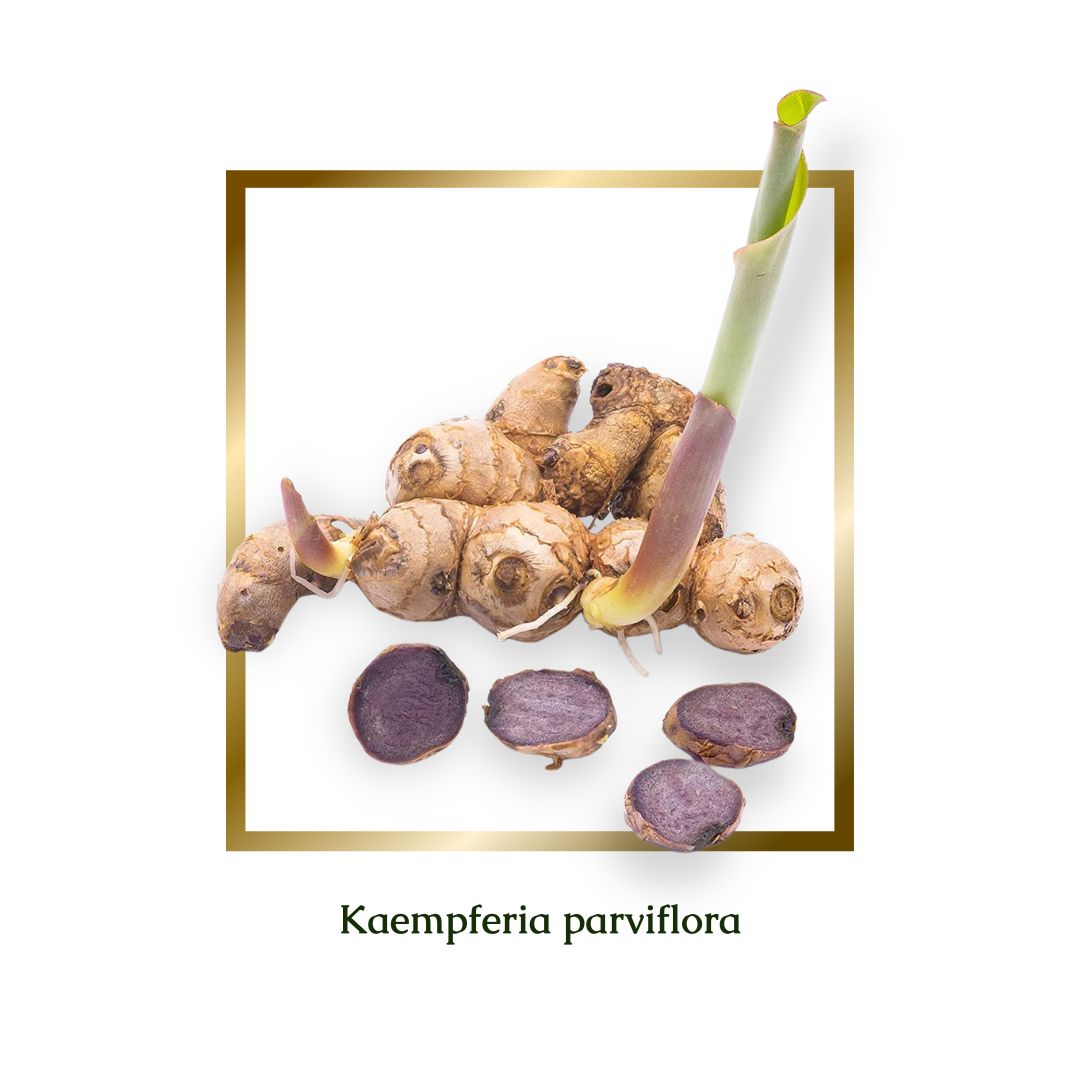 Black Ginger (Kaempferia Parviflora)
Black ginger enhanced physical fitness, namely, grip strength, leg muscle strength, balance, endurance, and locomotor activity in athletes, the elderly and healthy individuals. Also cure allergy, asthma, impotence, gout, diarrhoea, peptic ulcer and diabetes. black ginger has been claimed to cure allergy, asthma, impotence, gout, diarrhea, dysentery, peptic ulcer and diabetes. black ginger has been claimed to cure allergy, asthma, impotence, gout, diarrhea, dysentery, peptic ulcer and diabetes.has been claimed to cure allergy, asthma, impotence, gout, diarrhea, dysentery, peptic ulcer and diabetes. has been claimed to cure allergy, asthma, impotence, gout, diarrhea, dysentery, peptic ulcer and diabetes.
Reference: ResearchGate: Black ginger extract increases physical fitness performance and muscular endurance by improving inflammation and energy metabolism.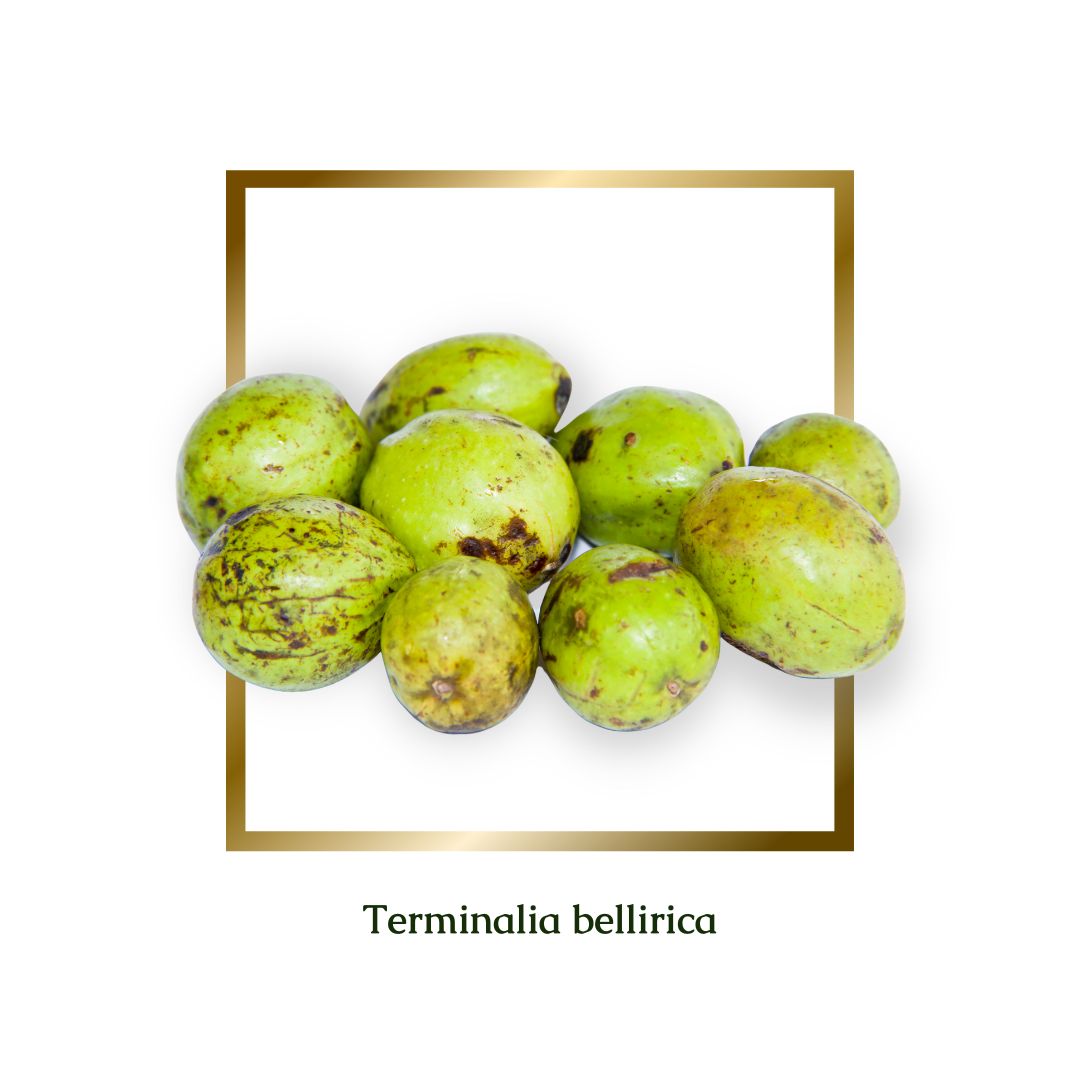 Belleric Myrobalan (Terminalia Bellirica)
Terminalia bellirica used in the traditional medicine of India and Iran to treat diseases that include dementia, constipation, and diabetes. References to the medicinal properties of Terminalia chebula were collected from important ITM sources and from modern medical databases (PubMed, Scirus, ScienceDirect, and Scopus).
Reference: ScienceDirect: A Review, Potential therapeutic applications for Terminalia chebula In Iranian traditional medicine.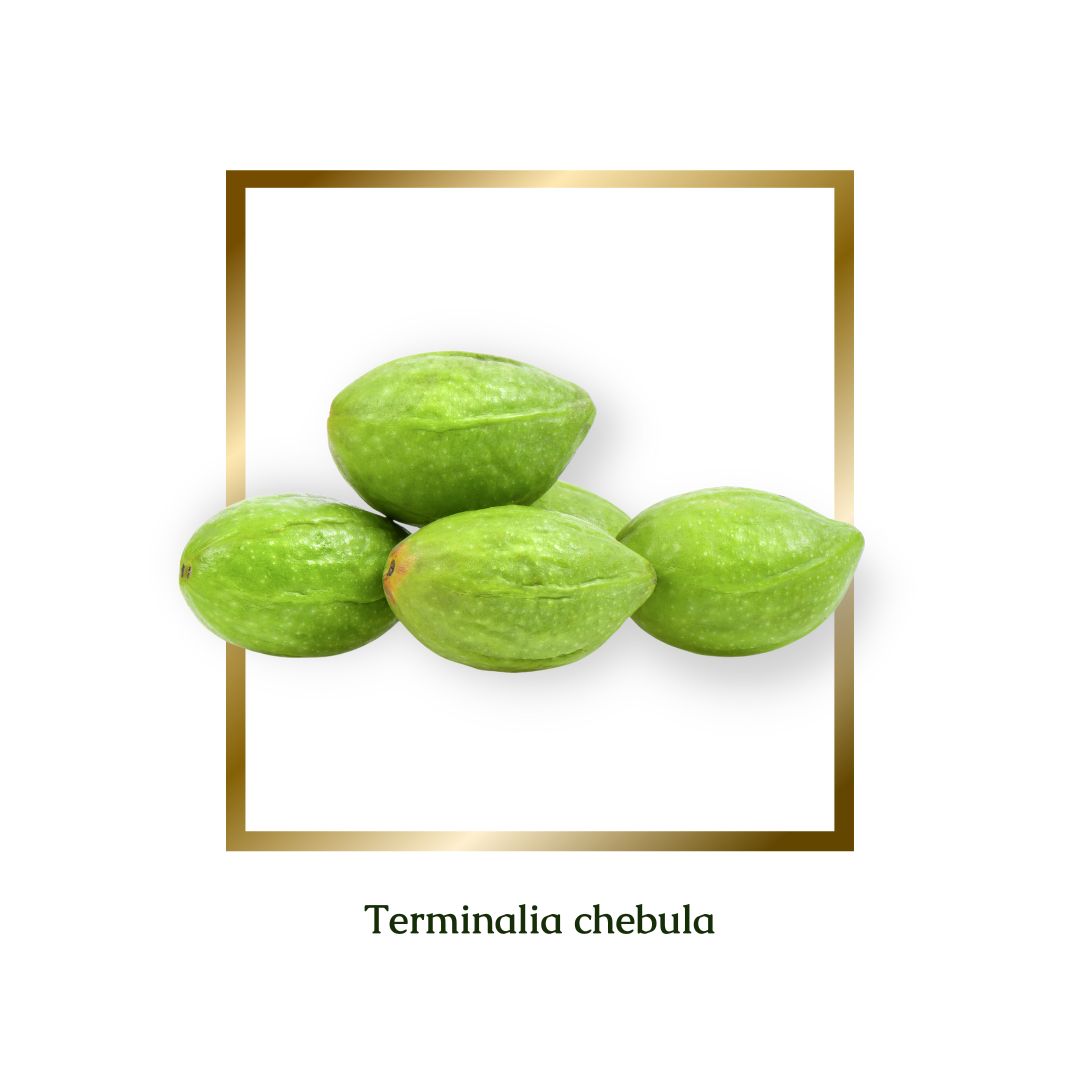 Chebulic Myrobalan (Terminalia Chebulic)
Chebulic myrobalan is highly nutritious and could be an important source of dietary supplement in vitamin C, energy, protein and mineral nutrients.
Reference: ScienceDirect: Nutritive value of the chebulic myrobalan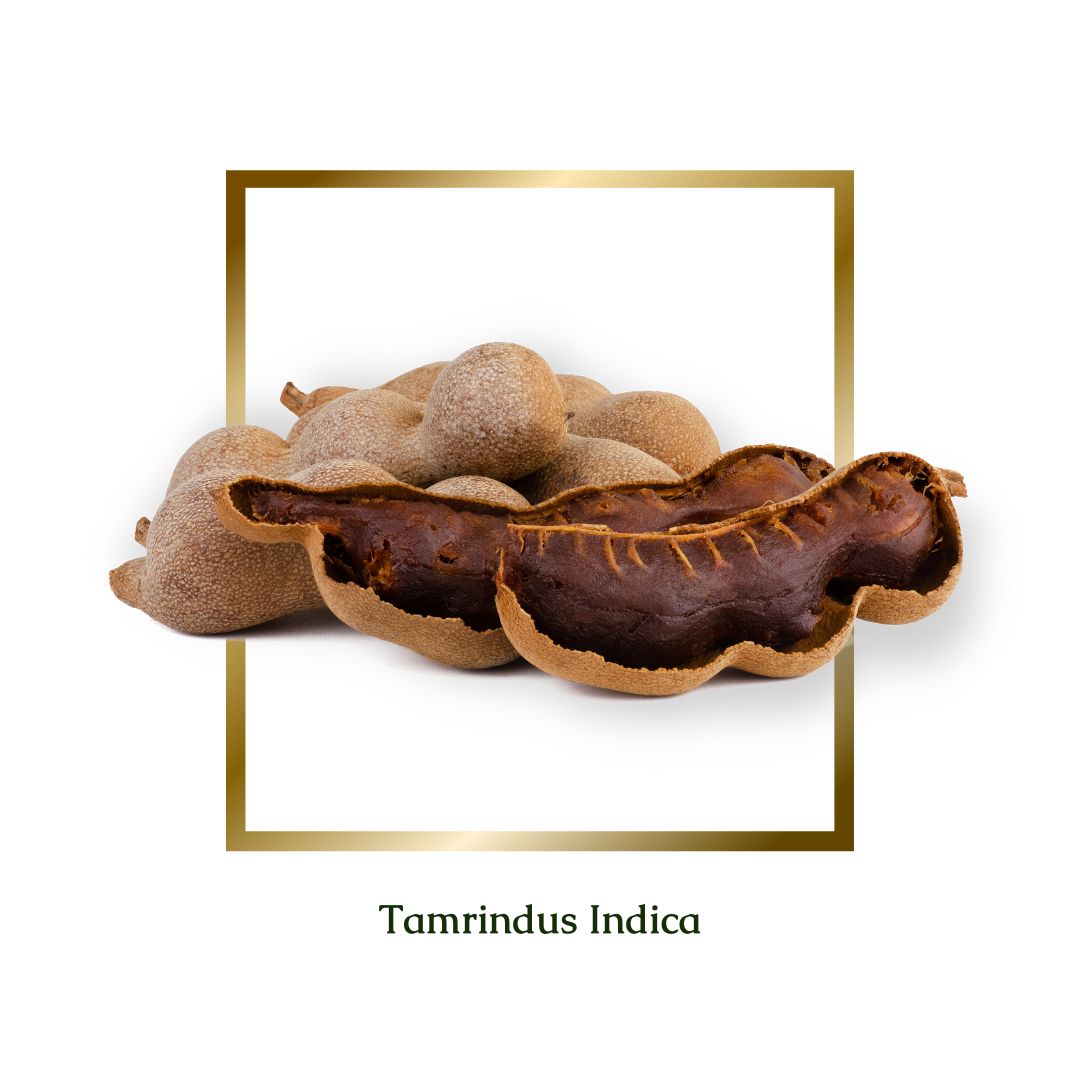 Tamarind (Tamarindus Indica)
Research has proven that tamarind seed extract (TSE) reverts arthritis-induced physical changes, obstructs arthritis-induced hematological changes, improves arthritis-induced cartilage degradation, and ameliorates bone degeneration.
Reference: Tamarind Seed (Tamarindus indica) Extract Ameliorates Adjuvant Induced Arthritis via Regulating the Mediators of Cartilage/Bone Degeneration, Inflammation and Oxidative Stress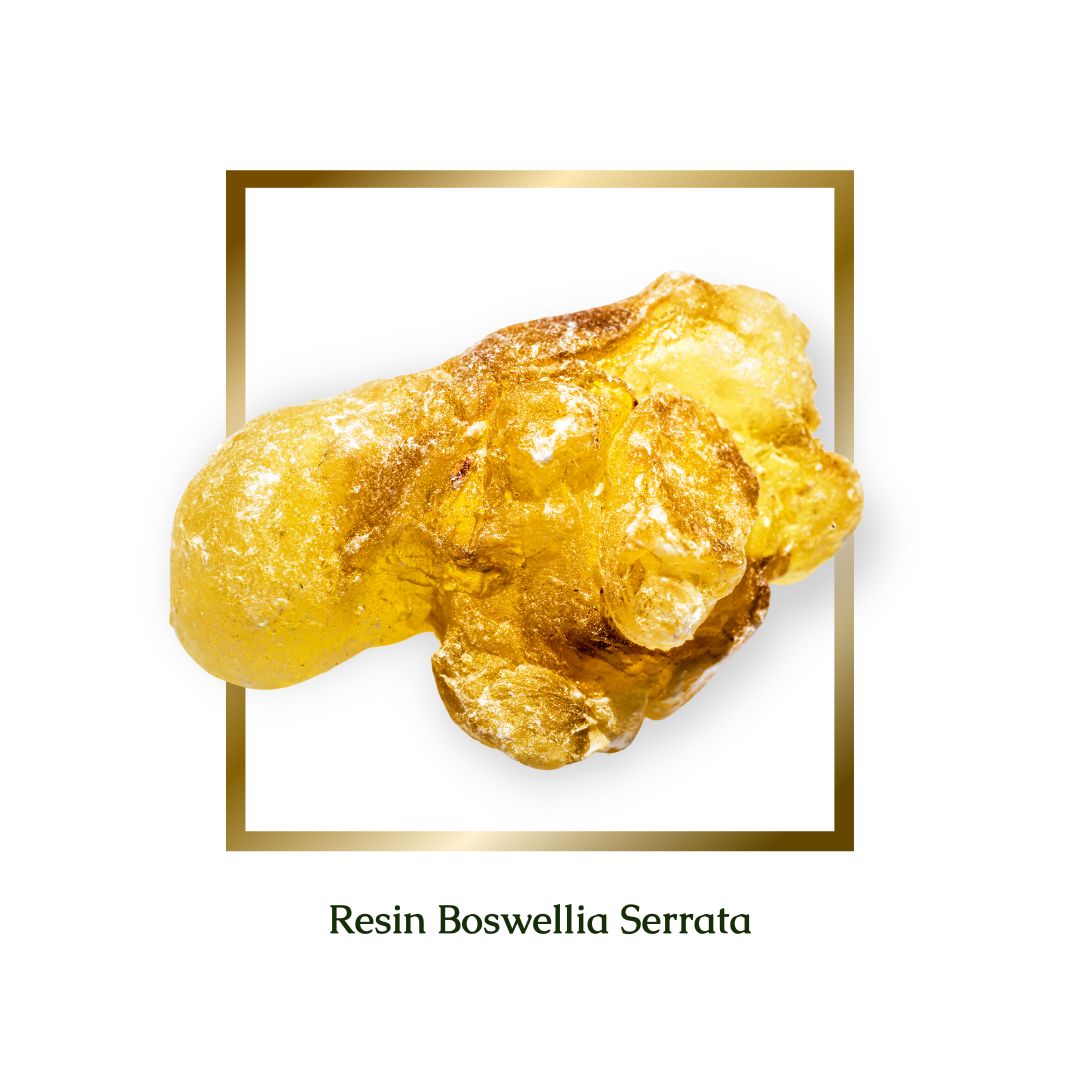 Boswellia (Boswellia Serrata)
Boswellia demonstrated beneficial effect on knee osteoarthritis. Patients in the Boswellia group experienced a significant decrease in pain and swelling and increase in range of motion compared to placebo.
Reference: Boswellia Serrata Monograph [Alternative Medicine review Volume 12, Number 2, 2008]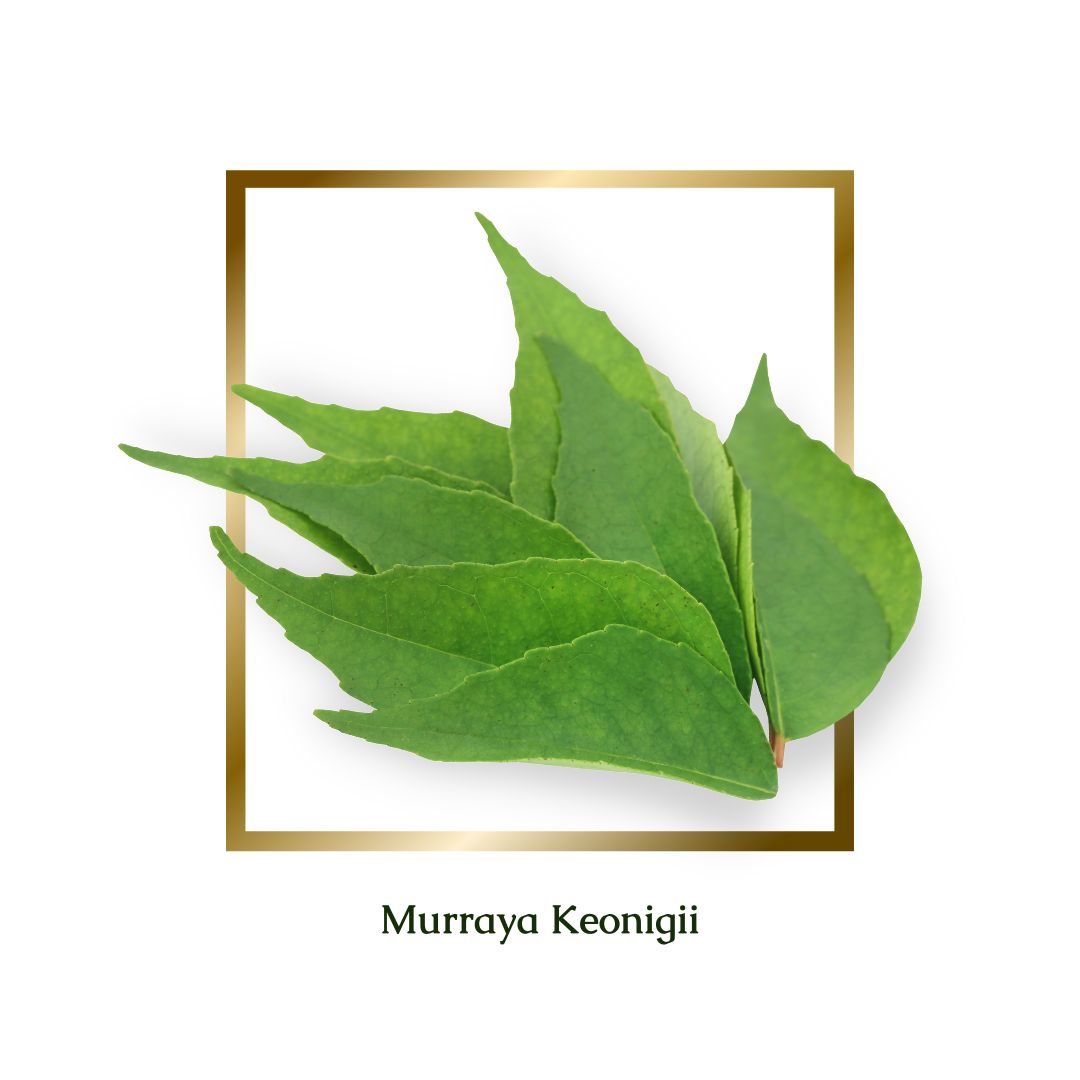 Curry Leaves (Murraya Koenigii)
A decrement in body weight, BMI, waist circumference, hip circumference, Total Body Fat percentage and Visceral Fat percentage was observed. The most desirable observation was abatement in visceral fat percentage levels. Murraya leaf powder was shown to be effective in promoting weight loss, abatement of central obesity, scaling down the level of total body fat and visceral fat percentage and, thereby managing risk associated with hypercholesterolemia.
Reference: Effect of Murraya Koenigii (Curry Leaves) Powder Supplement on Anthropometric and Body Composition Parameters of Hypercholesterolemic Urban Women: A Randomized Control Trial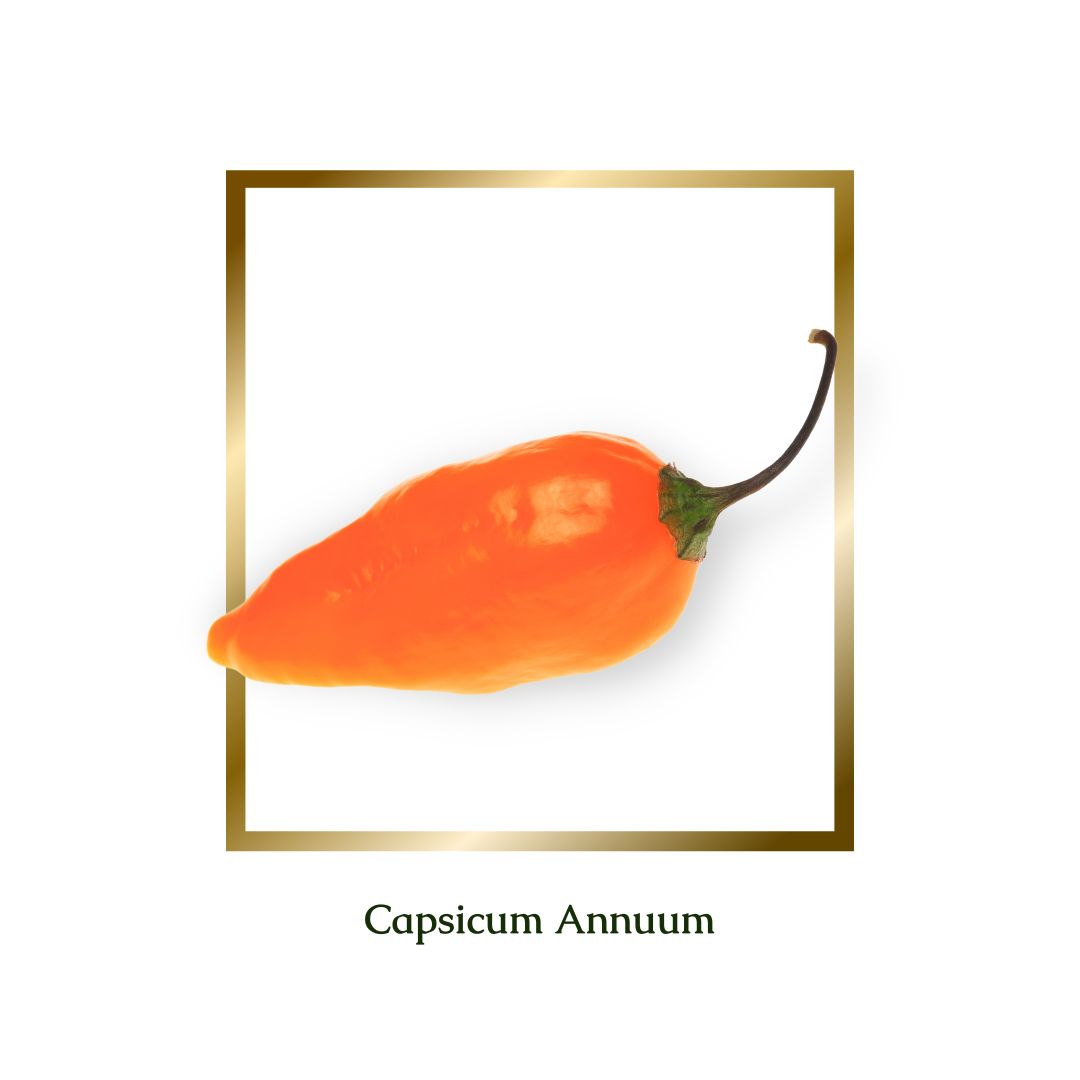 Capsaicin (Capsicum Annuum)
In summary, capsaicin plays a critical role in human and has multiple benefits for metabolic health, especially for weight loss in obese individuals. It is well accepted that the potential application of active compounds isolated from herbs are similar with the practice of traditional Chinese medicine, which has a holistic approach that can target to different organs and tissues in the whole body. More importantly, no adverse effects with capsaicin were observed in most studies. Thus, chili peppers and capsaicin are safely and easily applicable to our daily life. Considering that chili peppers have been a vital part of culinary cultures worldwide and have a long history of use for flavoring, so it is more feasible to be utilized to treat overweight and obesity, compare with medications or other interventions with certain side effects.
Reference: Dietary capsaicin and its anti-obesity potency: from mechanism to clinical implications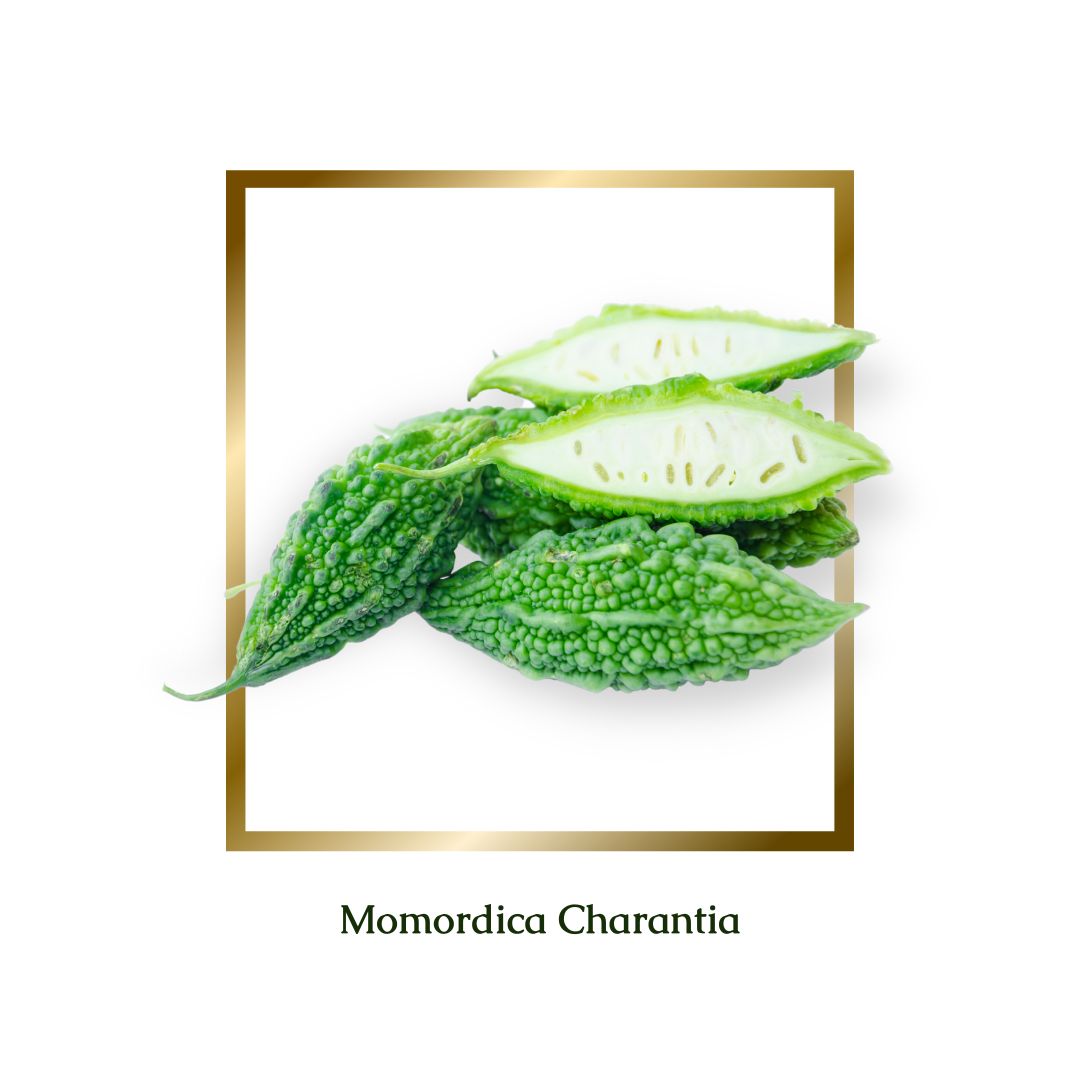 Bitter Melon (Mormodica Chrantia)
Mormodica charantia and glucose metabolism: Results clearly demonstrated that M. charantia and its extracts can directly regulate blood glucose via two mechanisms. Firstly, it can regulate how much glucose is absorbed by the gut into the blood following a meal and secondly, it can stimulate glucose uptake into skeletal muscle cells just like insulin. Moreover, it seems to exert its effect via the same intracellular signaling pathways as insulin in regulating glucose metabolism in the body.
Reference: Antidiabetic Effects of Momordica Charantia (Bitter Melon) And Its Medicinal Potency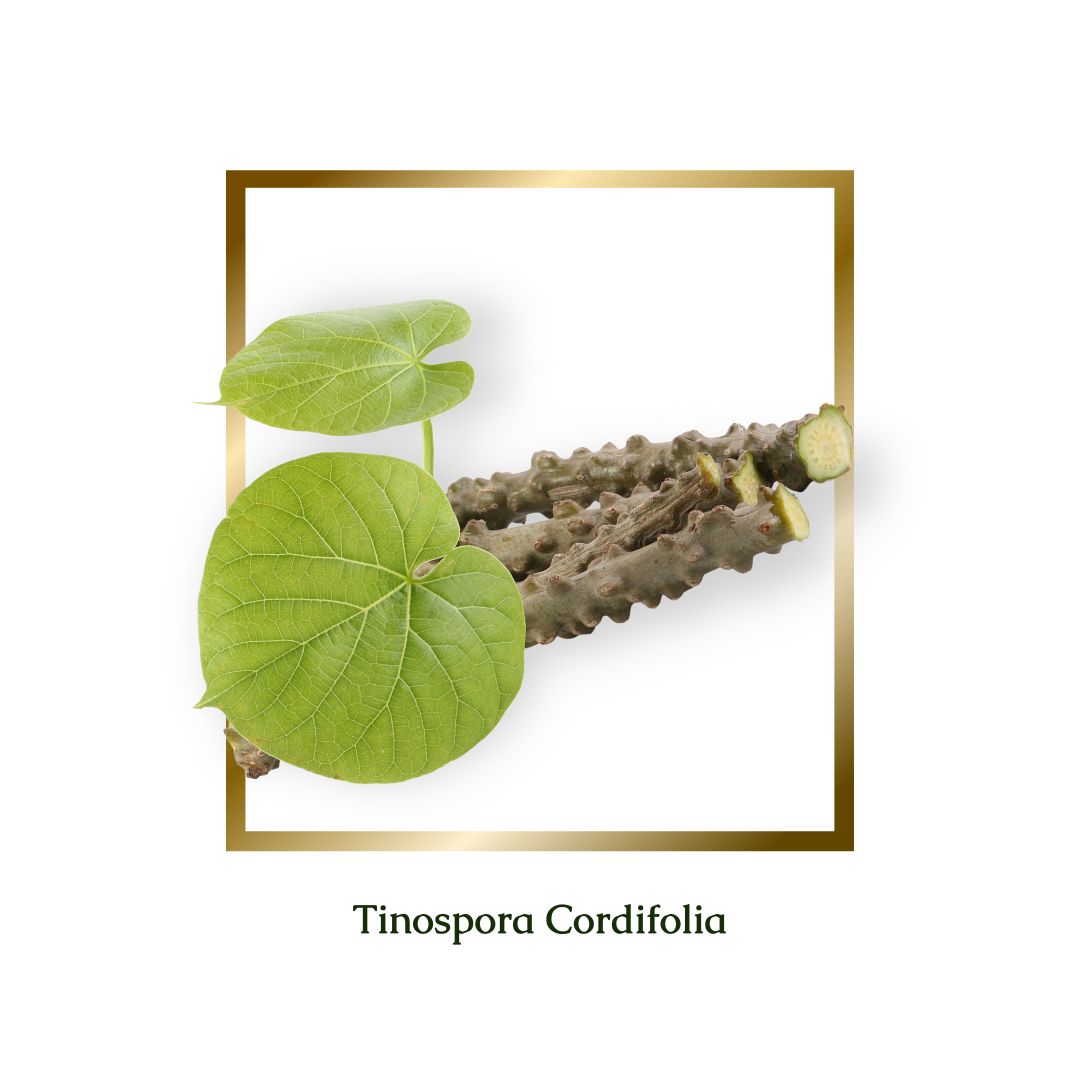 Heart-Leaved Moonseed (Tinospora Cordifiolia)
After prescription of Tinospora cordifolia (powered stem; 50 mg/kg body weight, p. o.) for 15 days in type 2 diabetic patients resulted significant decrease in the level of fasting blood sugar, total cholesterol, β lipoproteins and triglycerides. The decrease in lipids and apoprotein levels of β lipoproteins was accompanied with stimulation of plasma lecithin cholesterol acyltransferase (LCAT). Lipid and apoprotein level of α lipoproteins were also recovered partially. Results of this study may provide scope for further research and leading to development of a potent anti diabetic, anti-dyslipoproteinemic anti oxidant drug from Tinospora cordifolia (T. cordifolia) stem.
Reference: A Clinical Trial to Assess the Antidiabetic, Antidyslipidemic and Antioxidant Activities of Tinospora Cordifolia in Management of Type – 2 Diabetes Mellitus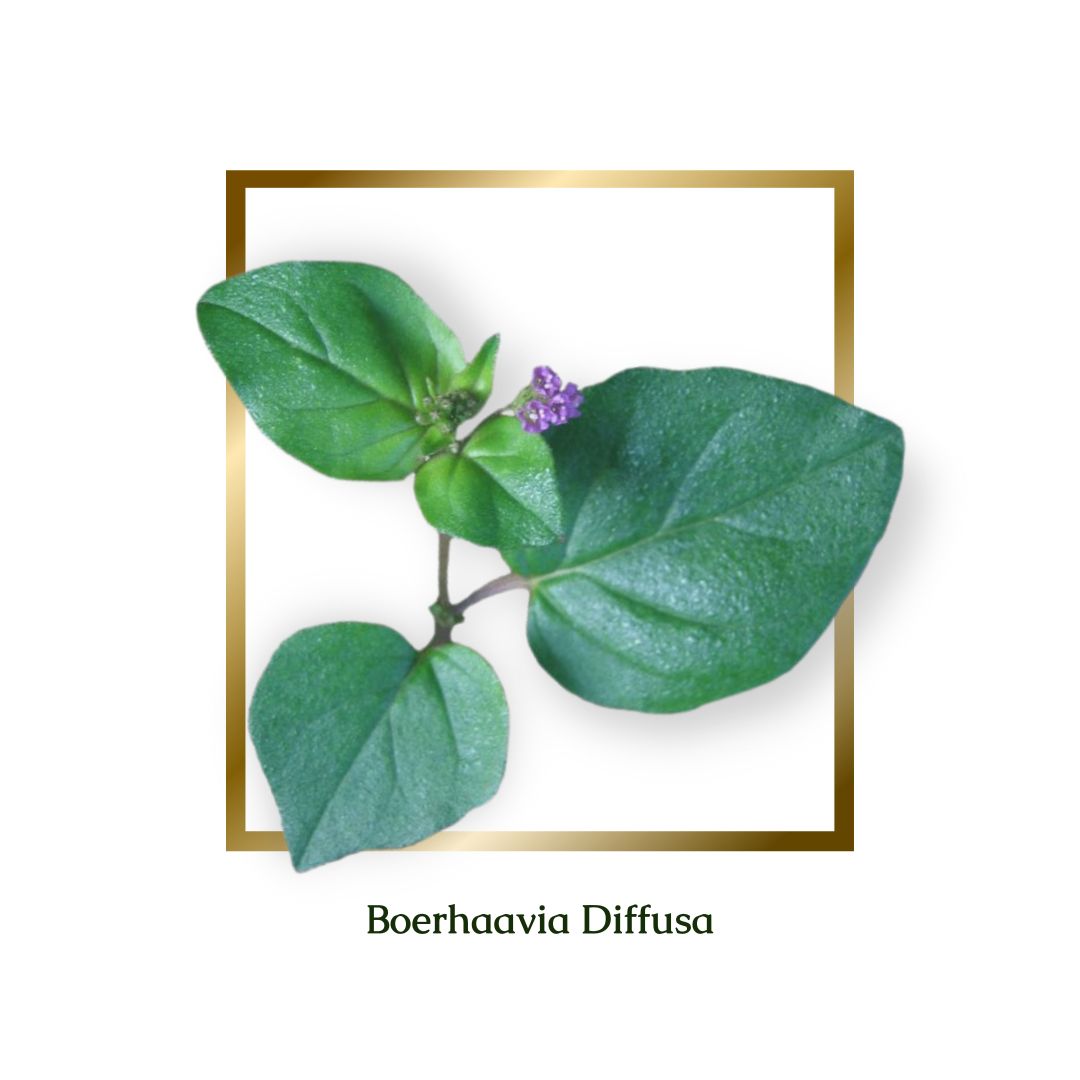 Red Spiderling (Boerhaavia Diffusia)
These results demonstrate the antioxidant and antidiabetic activities of the aerial parts of Boerhaavia diffusa as evident by its free radical scavenging, and carbohydrates and lipid digesting enzymes inhibitory activities. These activities can be attributed to the total phenolic content and identified bioactive compounds particularly in the ethanol extract. The ability of the ethanol extract to inhibiting small intestinal glucose absorption as well stimulating muscle glucose uptake.
Reference: Boerhaavia Diffusa Inhibits Key Enzymes Linked to Type 2 Diabetes In Vitro And In Silico; And Modulates Abdominal Glucose Absorption And Muscle Glucose Uptake Ex Vivo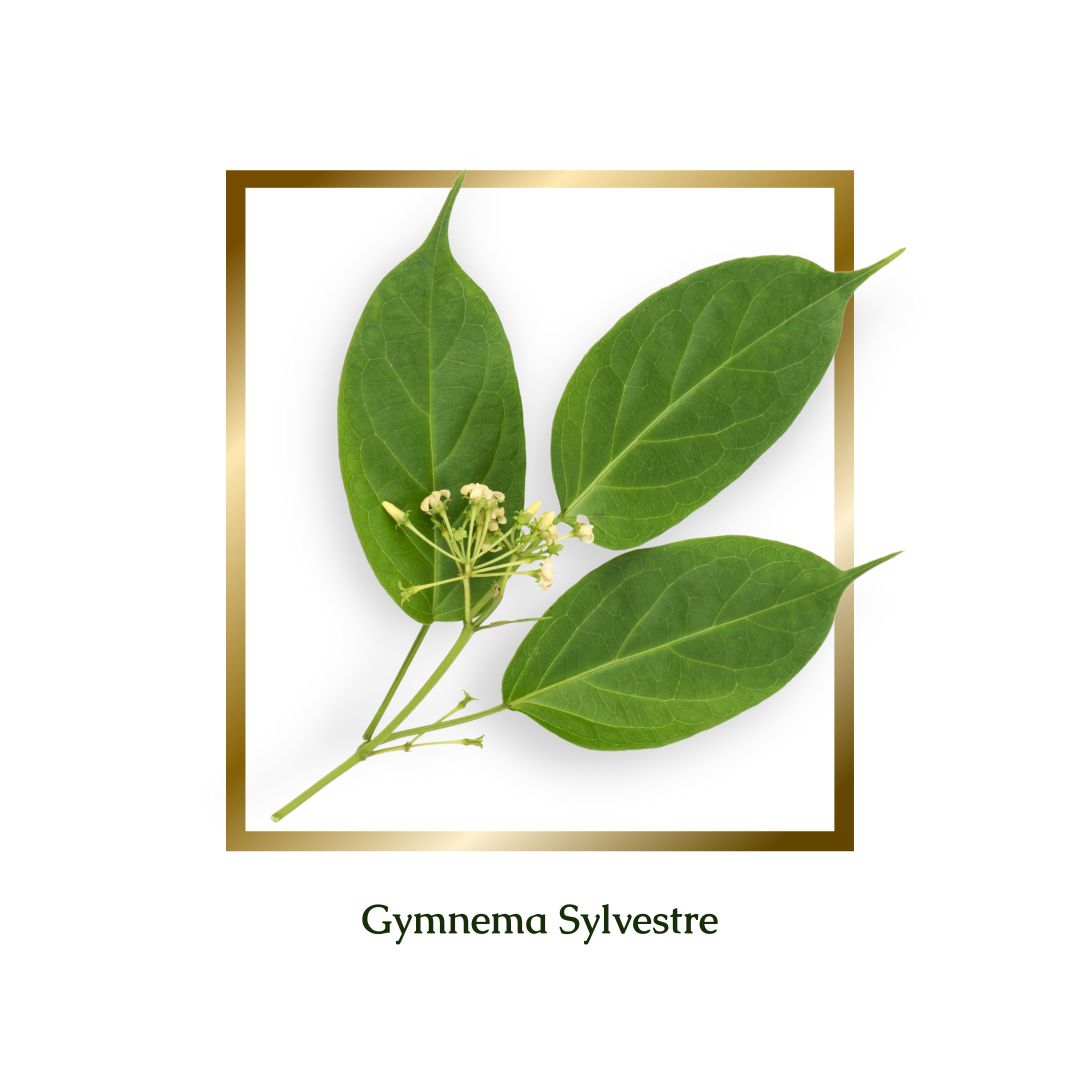 Australian Cowplant (Gymnema Sylvestre)
In the past few years, Gymnema sylvestre has emerged as a cost-effective and potential intervention by targeting the etiological factors connected with diabetes. It functions as a blood sugar lowering agent, insulin stimulator, β-cell regenerator, facilitator of anti-obesity and an anti-inflammatory agent. It produces not only blood glucose homeostasis but also showed anti-cancerous, anti-microbial, anti-arthritic activities.
Reference: Clinical Applications of Gymnema Sylvestre Against Type 2 Diabetes Mellitus And Its Associated Abnormalities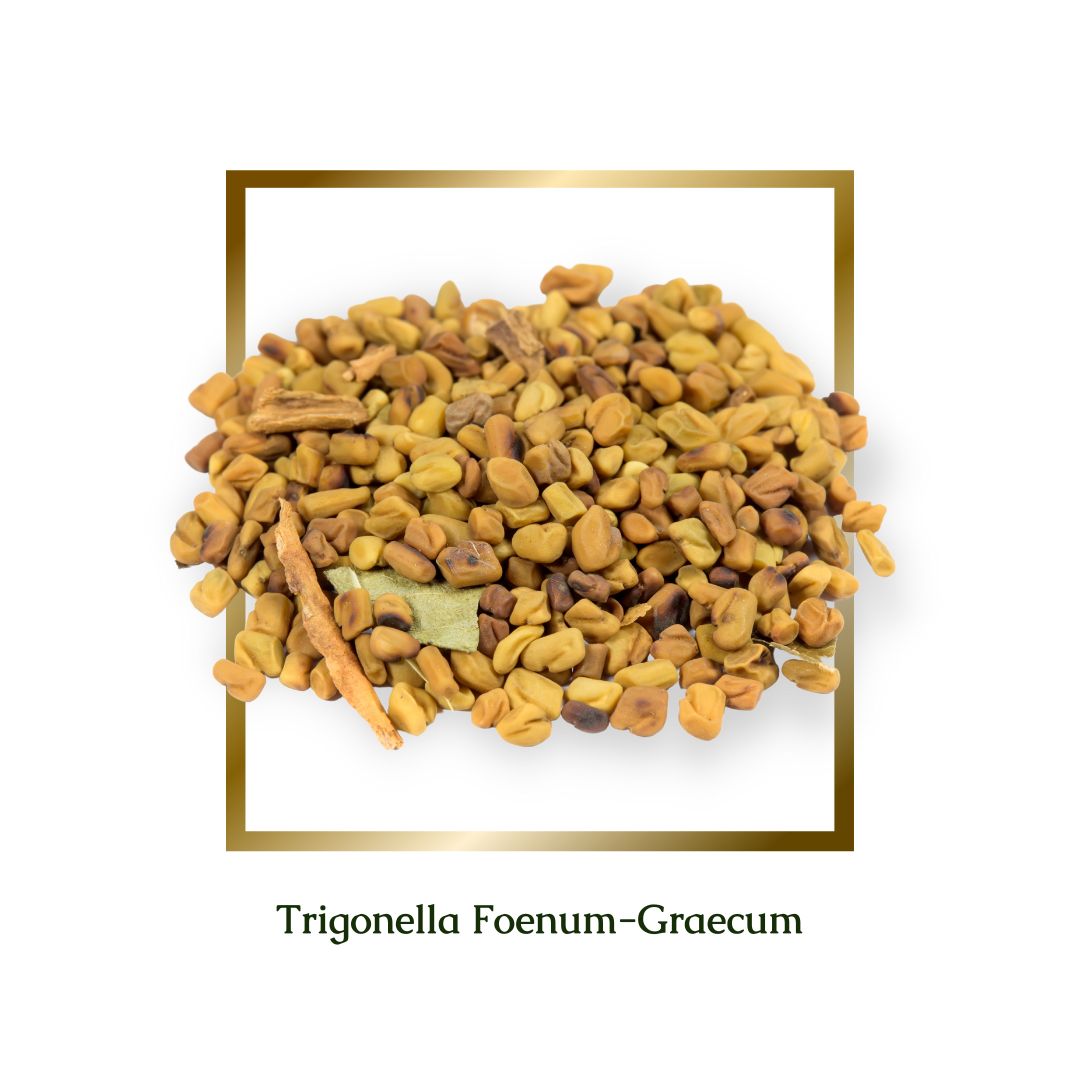 Fenugreek (Trigonella Foenum-Graecum)
This study statistically proves that hypoglycemic effects of fenugreek are over and above the diet control and exercise. It may reduce requirement of drugs and can give better blood glucose control and can be helpful in preventing long-term morbidity. A simple complementary addition of fenugreek seeds 10 gm/day can have a synergistic effect along with diet control and exercise on fasting blood glucose and HbA1C within 6 months of treatment.
Reference: A Simple Dietary Addition of Fenugreek Seed Leads To The Reduction In Blood Glucose Levels: A Parallel Group, Randomized Single-blind Trial