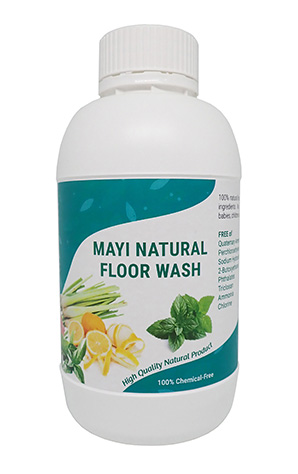 MAYI NATURAL FLOOR WASH
100% natural floor wash from herbal ingredients. No harmful fumes which harm babies, children and the elderly.
---
PRODUCT INFORMATION
---
Weight: 220g
Ingredients: Salt, Soapberry, Neem, Green Chirayta, Holy Basil leaves, Peppermint, Lemon Peel, Sweet Flag, Lemongrass.
Directions: Mix powder with water to create a dilution as needed. Gently mop the floor with the solution. *Do not mix with acid or any other cleaning detergent. Store in cool and dry place. Contains 100% natural ingredients therefore proper care and storage is important. Colour of the natural ingredient may vary from batch to batch.
I am Free of: Quaternary Ammonium Compounds (QUATS), Perchloroethylene (PERC), Sodium Hydroxide, 2-Butoxyethanol, Phthalates, Triclosan, Ammonia, Chlorine.